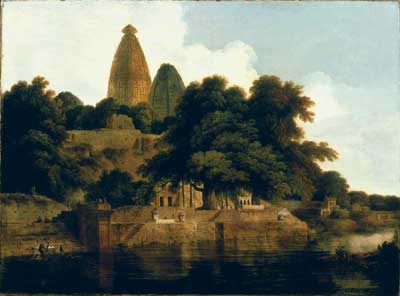 Compton Verney, the Grade I-listed mansion house near Stratford-upon-Avon, recently opened as an art and exhibition gallery. It is currently hosting a major exhibition Opulence and Anxiety: Landscape paintings from the Royal Academy of Arts. The paintings on show date from the later 18th century until the present and are by artists including Constable through to Hockney.
Of interest to CWA readers is the way in which the exhibition deals with issues of Empire and the subsequent transition to modernity. A number of paintings reflect both the buoyancy and/or anxiety of the British Empire abroad.
We were drawn to the lavish yet somewhat idealised 'Hindoo Temples at Bindrabund' (1797), by the lesser-known Thomas Daniell. In February 1789 Daniell reached Bindrabund, a sacred city in East India where Krishna was said to have spent a happy childhood, and which was then entrusted to the care of the herdsman Nanda. He described the site as 'beautiful and elegant'.
Compton Verney, set in grounds landscaped by 'Capability' Brown, also has a number of permanent exhibitions that are worth a visit. These include a collection of German paintings and sculpture (1450-1650) plus a good selection of bronzes and pottery from China.
Opulence and Anxiety is currently on show until 10 June 2007. For more information visit www.comptonverney.org.uk or telephone 01926 645500.
---
This article is an extract from the full article published in World Archaeology Issue 23. Click here to subscribe