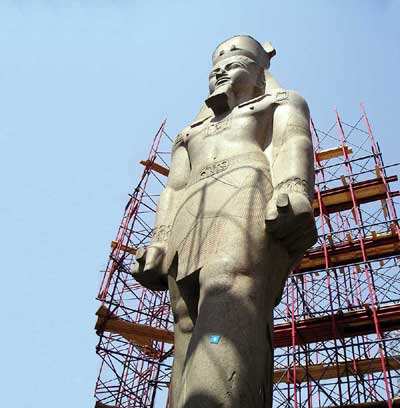 Ramesses II was one of the great kings of Egypt, ruling for 67 years between 1293 and 1212 BC. He dominated the New Kingdom of Egypt and was one of ancient Egypt's most prolific commissioner of buildings and statues.
One of the finest statues of the Pharaoh was discovered in 1882 in Luxor. However, in 1955, the statue, which stands at 11m (36 feet) high and weighs in at 83 tonnes, was cut into eight pieces and taken down the Nile to Cairo where it was re-erected at a busy crossroads hemmed in by bridges, an underground railway and a mosque.
As the decades rolled by, many worried that heavy pollution was damaging the mighty statue. As a consequence, it was decided Ramesses should be moved to a new museum at Giza. Readers may remember our report in CWA 9 describing how preparations for the move were underway. At that time, the statue was surrounded by scaffolding, having been minutely surveyed using a laser scanning programme by Digital Heritage Consultant, Duncan Lees, of Plowman Craven & Associates. The scanning, explained Lees, would facilitate the safe move of the statue – this time, in one piece. In late August this year, Ramesses was finally on the move. It took 10 hours for the colossus to travel the 2km to its new home. It passed through Cairo at a stately pace on two flatbed trucks. The whole statue had been housed within a steel cage, specially built to hold it steady – apart from the head, which protruded from the protective steel. The head was wrapped in plastic and thick padding, but the face had been left clear and was visible to the tens of thousands of people that had come out to watch Ramesses go by. The operation was also broadcast live on Egyptian television. The ancient Pharaoh, desperate for immortality, would have been happy! 'It was slightly nerve-racking to watch the statue finally being moved, but we're all pleased it went without a hitch', said Lees.
---
This article is an extract from the full article published in World Archaeology Issue 20. Click here to subscribe