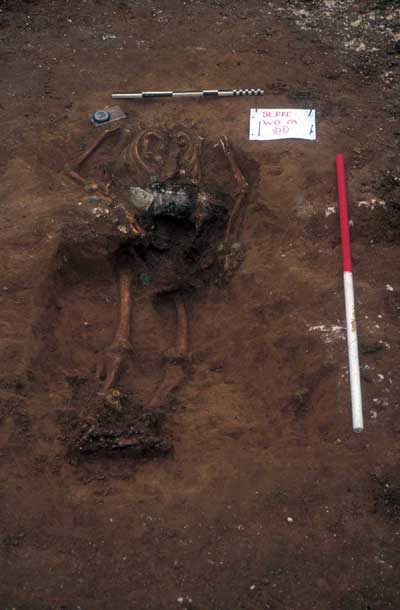 Archaeology also tells more sombre stories and one of these is the story of the slaughter on the Somme in the 1914-18 war. Here Neil Faulkner reports on an excavation undertaken at Serre, where the poet Wilfred Owen fought. Faulkner uses Owen's iconic poetry to flesh out the bones of three bodies exhumed from the earth of the erstwhile trenches. Two of the bodies have been identified by their paraphernalia as German. But who was the third body?
What was life really like in the trenches in the First World War. Recently some of these trenches have been re-excavated at Serre, part of the Battle of the Somme. Here the remains of duckboards can be seen that line the trench.
Several bodies were excavated of the soldiers. The excavators hoped to be able to identify the body of the soldier poet Wilfred Owen but this did not appear. Instead they located this body identified as that of Jacob Hones, a farm labourer from Munchingham near Stuttgart who served in the German 121st reserve infantry regiment, who died in June 1915.
---
This article is an extract from the full article published in World Archaeology Issue 10. Click here to subscribe