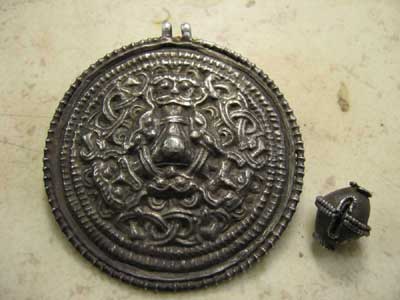 Two five-year old Norwegian boys have made a sensational archaeological find. The two were out playing when they discovered jewellery estimated to date from around AD 900-1100. They found the artefacts – a large double disc-shaped patterned medallion and a silver bead – under a tree root in the family garden in Tromsø a town in the far north of Norway.
Associate Professor Inger Storli at Tromsø University Museum, who knew they had come across something special and unique, said 'Our eyes popped, because none of us had seen anything like it before'.
Speaking to CWA, Storli revealed that the archaeologists have made a number of additional discoveries at the site.
It is now clear that the boys' finds are part of a whole hoard of artefacts. To date, the archaeologists have uncovered a large silver chain with what seems to be a gilded dragon's head at each end, a second chain with an impressive silver crucifix, plus two very fine braided silver necklaces. While the medallion dates to around AD 900, the crucifix is thought to date to around AD 1100, providing a terminus ante quem of 1100 for the deposit.
The objects are currently in the care of the museum curators and are due be studied further in order to discern their age and origin, and perhaps even the reason behind their deposition.
It is anticipated that the jewellery will be put on display at Tromsø University Museum by the end of the year.
---
This article is an extract from the full article published in World Archaeology Issue 13. Click here to subscribe