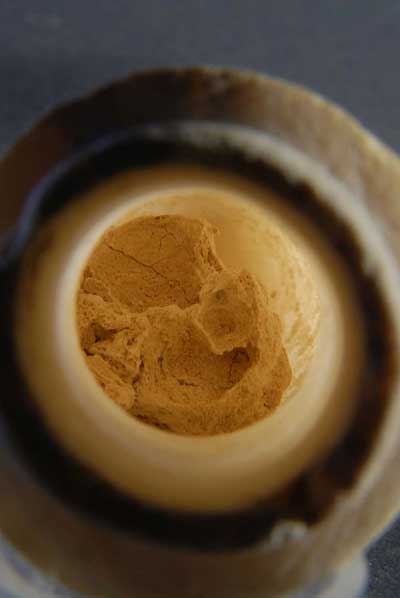 Archaeologists in Florence are hoping to recreate the scent used by an Etruscan aristocrat after finding an intact unguentarium (ointment flask) in her undisturbed tomb. The flask, of Egyptian alabaster and dating from 150-100 BC, was found in 2005 during the excavation of a necropolis near the town of Chiusi, one of the 12 city's of the ancient Etruscan confederation.
Clay, falling onto the flask in ancient times, had sealed the mouth and preserved the contents, which have now been subjected to chemical characterisation tests, to reveal three major components: oil from the moringa tree (Moringa peregrina) and two plant resins: mastic and pine. The moringa is native to Africa and was commonly used as a base for unguents in Egypt, suggesting that the lotion had been imported, and therefore would have been an expensive luxury.
Dr Mario Iozzo, Archaeological Superintendent for Tuscany and Deputy Director of the National Archaeology Museum in Florence who excavated the tomb, says that tests are continuing with the aim of identifying the volatile elements that would have contributed top notes, such as rose, to the base scent 'and – who knows – to enable us perhaps to reproduce the perfume'. Recipes from ancient Egypt show that rose water, honey, frankincense and myrrh might also have been used.
The flask formed part of a well preserved assemblage that included the cremated remains of the owner, whose name – Thana Plecunia – was picked out in red-purple paint on the travertine cremation chest. This was decorated with foliage and the head of a female goddess – probably Cel Ati, the Etruscan forerunner of the Roman grain goddess. Alongside was a richly decorated chest of carved bone, ivory, and bronze, with feet carved in the shape of Sirens. This, says Dr Iozzo, probably commemorated an important moment in the life of this aristocratic woman, such as her wedding. •
---
This article is an extract from the full article published in World Archaeology Issue 37. Click here to subscribe