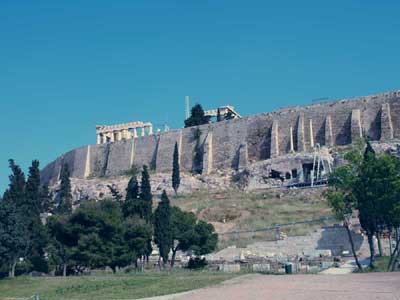 So, you have ticked Athens off your long archaeological list? You have seen all the sites and museums recommended in the guide books? Yet if your last, or only, visit to the Greek capital was, say, five years ago, then treats aplenty await your return.
CWA 6 has already given a taster of what is in store: as part of the vast programme of works, both sporting and archaeological, in preparation for the 2004 Olympic Games, the main sites have been unified into a pedestrianised archaeological park. This really has transformed the experience of visiting ancient Athens.
Most of what is new for the enthusiast can be taken in as part of a walking tour to all the major sites. However, now the visitor is treated to detailed information panels of the kind found at most English Heritage sites. Such panels even grace quite obscure traces of the ancient past: at the bottom of Adrianou Street, for instance, we are informed about part of a wall of a huge 2nd century AD Hadrianic building (identified as the Pantheon or Panhellenion) with attached tower of 3rd century Justinian date. This small site is not in any guide book, as far as I know.
---
This article is an extract from the full article published in World Archaeology Issue 37. Click here to subscribe