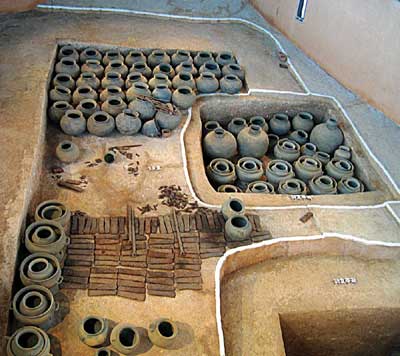 Here we see one of the most spectacular recent discoveries in the suburbs of Busan, Korea's second largest city. A series of tombs of the Gaya kingdom were discovered on a hill top. Building was promptly stopped and the hilltop was made into a heritage park. The position of the tombs is marked out by low hedges. Three of the excavated tombs have been preserved, one of which is shown to the right, with the numerous urns and metal ingots that accompanied the burial.
The Gaya were the fourth of the 'Three' Kingdoms, for they were absorbed by the Silla in 562. However there are a number of spectacular tombs in the area of Busan (or Pusan), today Korea's second largest city, especially round the adjacent city of Gimhae.
---
This article is an extract from the full article published in World Archaeology Issue 8.
Click here to subscribe