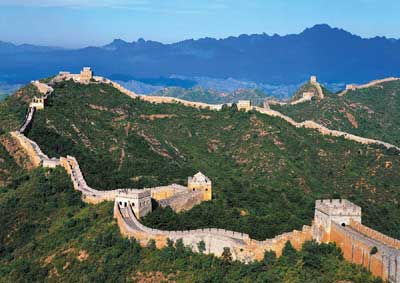 The undulating Great Wall of China is one of the world's foremost historical sites. The mighty wall runs across the north of the country and was built over 2,000 years ago by the first Emperor of China who feared invasion by those pesky barbarians. Such was the imperial terror, that the Great Wall ranks as one of the world's largest building construction projects ever to be completed, having been further enlarged to some 4,0000 miles during the Ming Dynasty (AD 1368-1644). The Parkinson's Disease Society is now seeking keen walkers for a new and exhilarating fundraising challenge, known as Trek China, which will take place from 5th to 13th May 2007.
The nine-day trip begins and ends in Beijing, when participants will have the chance to explore China's vibrant capital, taking in the Forbidden City, Imperial Gardens and Tiananmen Square. The trek will take place over five days, during which time walkers will visit parts of the Great Wall rarely seen by the majority of visitors. Hugo Middlemas, Director of Fundraising at the PDS said, 'The PDS China Trek is ideal for people who are looking for a unique physical and cultural challenge that gives them the opportunity to raise money for a very important cause. The money raised will go directly to funding research into a cure for Parkinson's as well as looking for ways to improve the lives of people with Parkinson's". To sign up or find out more about Trek China 2007 please contact Anne Durrant, at the Parkinson's Disease Society, on 020 7963 9319 or emailexpeditions@ parkinsons.org.uk.
Alternatively you can visit the PDS website at www.parkinsons.org.uk. Participants are required to pay a non-refundable registration fee of £299, which includes travel costs, and pledge to raise a minimum amount in sponsorship, part of which covers the additional costs of the trip. Flights, all internal travel, accommodation, meals and water are all included.
---
This article is an extract from the full article published in World Archaeology Issue 19. Click here to subscribe