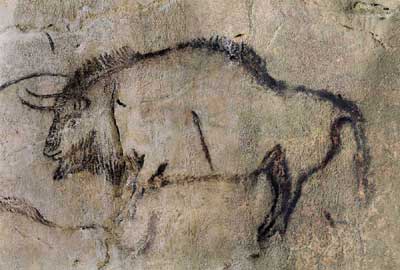 The August sun is scorching the south of France as it always does, but this year the warm welcome of these lands is enriched by celebrations of its prehistoric past. A hundred years ago, and only 30km west of where we are now sitting, incredible cave paintings were found by Commandant Molard and his two sons, Paul and Jules, deep in the Grotte de Niaux, south of Foix. A few months later, in September 1906, these images of horses and bisons, together with many others within the cave system that had been discovered previously, were officially declared authentic examples of Palaeolithic cave-art by celebrated French prehistorian Emile Cartailhac.
Since then the site has attracted world-wide attention and remains the jewel in the crown among the numerous decorated caves of Ariège.
Indeed, the site was so impressive and so extensive that in 1952 the 'father' of French prehistory, the Abbé Henri Breuil, included it amongst his six 'giants' of painted caves in Europe along with Altamira, Font de Gaume, Lascaux, Combarelles, and Les Trois Frères.
Many years of tireless exploration have revealed more than 14km of underground passages and chambers in the Niaux cave system, but th decorated sections are seemingly confined to the outermost 2km or so. However, previously unrecorded galleries have been found as recently as 1970 so it is far from certain that all the secrets of this vast site have yet been revealed. Around 500m from the original entrance is a small panel comprising two bisons and a series of symbols. Deeper into the cave the main gallery branches with the enormous Salon Noir to the right and a succession of four decorated chambers to the left. An array of terrestrial animals are represented: bison, horse, ibex, deer, and even a weasel – to date, a unique depiction in Palaeographic art.
Most are shown outlined in black, but there are also symbols – dots, lines, and squiggles – painted in black, red, and brown. Much of their beauty and appeal lies in their simplicity and economy of line. Scientific analysis of the paints shows that at least three pigment recipes were used by the artists, the colourants being charcoal, manganese oxide, and red ochre. Radiocarbon dates suggest at least two phases of painting are represented, one around 11,850 BC the other about a thousand years later. Stylistically, all the paintings fit comfortably within the artistic traditions of the Magdalenian Culture who are represented across much of northern and western Europe in the period 16,000 and 10,000 BC.
Today, Niaux is one of very few ancient decorated cave systems that you can still visit in order to see the original paintings. For conservation reasons, the number of visitors allowed is strictly limited so booking is essential (Tel.: +33 (0)561 051010), especially in this centenary year. But for those who forget to book, help is at hand. Less than ten minutes drive north of Niaux is the Parc de la Préhistoire, an extensive interpretive site covering 13 hectares snuggled between breathtaking Pyrenean peaks near Tarascon. Here in the Grand Atelier are reconstructions of various parts of Niaux that can be explored at any time to the accompaniment of a commentary in your own language via an infra-red headset. At the entrance, darkness heralds a time-line descent into the prehistoric past. The drip of water and indefinable spooky sounds in your headphones lead to a reconstruction of the original entrance to Niaux with its 20m stretch of preserved footprints crossing a sand dune to reach the cave. Low light and shadows make the prints appear freshly implanted. The impact is mesmerising; a jaw dropping encounter with a moment in time when a gang of naughty children penetrated the secrets of the caves and then ran off again into archaeological immortality.
Further along the tour is a full-scale replica of the heart of Niaux, the Salon Noir, with dozens of images in six main panels. Superb lighting and viewing on two levels makes the experience of this replica as good if not better than the real thing. Here you can stand and contemplate the images for as long as you like, retrace your steps whenever you wish, and immerse yourself into the scenes without being ushered along by a guide.
Also in the Grand Atelier are presentations, displays, and exhibitions that set the cave paintings of Niaux into the wider context of Magdalenian art elsewhere in the Ariege and relate them to rock art around the world.
These displays alone are worth the €27 family entrance fee, but outside in the surrounding park there is more. Reconstructions of Palaeolithic houses, demonstrations of firemaking and flint knapping, a chance to try spear-throwing using a replica Paleolithic atlati for extra leverage and power, and, if you're feeling especially creative, a rough-cast stone wall on which you can try your hand at cave painting with traditional pigments. This is more than a fun day out, it is an educational experience focusing on a part of the past that is rarely tackled in schools and heritage displays despite the fact that it is one of the most spectacular and formative times in European prehistory.
If all this puts you in need of rest and refreshment then the small restaurant in the Parc offers a good range of food and drink, and a place to dip into the guidebooks and literature from the well-stocked shop next door. Alternatively, try another strand of local heritage. In his wonderfully idiosyncratic book The Hungry Archaeologist in France (Faber and Faber, 1963) TV presenter, bon viveur, and Cambridge professor Glyn Daniel urged anyone visiting Niaux and its hinterland to: 'walk down the hill to Tarascon, sit in a café and order a bottle of Blanquette de Limoux (if you are inclined to favour sweet luscious sparkling wines, which I am not) or Corbières rouge if you prefer a strong, dry, red wine as I do'. Incredibly, you can still do exactly that, re-tracing Daniel's steps into town for an Ariégeois lunch or dinner. The fare is also still much as Daniel describes it, but, sadly, even in his day some of the creatures depicted on the cave walls that must have been favourite bites 14,000 years ago had already dropped off the menu.
In this anniversary year the Parc de la Préhistoire has also been host to numerous events celebrating the discovery of Niaux.
Conferences and lectures there were aplenty, and a delightful souvenir guide published, but amongst the more unusual attractions was an evening spectacular entitled 'Which side story'. Through dance, narrative, and music the piece gave an account of human evolution from a squirming body imprisoned in the primordial soup to the dominance of Homo sapiens in the modern world. The famous D-J Fat Boy Slim may have done the same thing in just under three minutes for his music video of 'Right Here, Right Now', but it has to be said that the two-hour version featuring six energetic lycra-clad dancers on a simple wooden stage suspended over a moon-lit lake in the shadow of the Pyrenees was far more enjoyable.
And performances this summer were not confined to Tarascon. Just 35km to the northwest is the extraordinary cave of Mas d'Azil, type-site of the late Upper Palaeolithic Azilian Cultures of the period 9000-8000 BC, where there were performances of La Tribu d'Azil every weekend through July. And anyone worried about having to get out of their car while on holiday should not think twice about taking in this site as a main road runs right through the centre of the cave system to allow a drive-through experience of prehistory the like of which you'll find nowhere else in Europe.
Here in southern France early prehistory is truly valued and celebrated. Not only are the main sites well-signed, easy to get to, and enjoyable once you're there, but when you send some postcards home you'll find the postoffice gives you commemorative stamps featuring cave paintings at Grotte de Rouffignac in the Dordogne to round the whole thing off.
---
This article is an extract from the full article published in World Archaeology Issue 20. Click here to subscribe