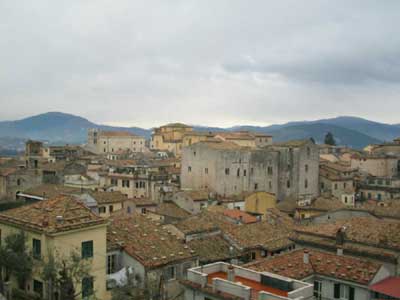 Lisa Fentress is a rare phenomenon. She is a distinguished practising archaeologist who has never held a permanent university post or managed an archaeological outfit, yet has a superb track record of published projects. Lisa works with passion and zest: in English, French and Italian. Half measures do not exist for her. It is always with extraordinary self-discipline that she designs each project. She finds the team, raises the money, discovers bureaucratic hurdles because she has no university affiliation, overcomes said hurdles, and then excavates and surveys each site. She then heaves into action to produce major studies and monographs. Her spirited approach challenges the status quo – but also attracts damnation as the great archaeologist Sir Mortimer Wheeler would have put it.
I met Lisa more than 25 years ago when we often sat and talked in her homely kitchen that backed onto a secluded cortile filled with cats close to Rome's Campo di Fiore. In the halflight of many a winter's evening, she and her husband James – an expert on the mafia – generously hosted the various waifs and strays passing through Rome's foreign schools. The two provided the context (fuelled by good wine!) for meeting Italian colleagues whose methodologies seemed so alien to ours.
Lisa's curriculum vita starts with her work on Roman and early medieval North Africa and includes an important book on the Berbers. But it is in Italy that I have come to know her best. So I was happy to accept for review a copy of her latest monograph on the monastery of San Sebastiano at Alatri in southern Lazio.
The monastery of San Sebastiano is a stone's throw from the Benedictine monastery of San Vincenzo al Volturno where I excavated for nearly two decades. The project has been mounted on a little petrol money and aided by colleagues and fellows from the American Academy in Rome. I travelled with the resultant handsome book for some months before falling ill and needing distraction I opened it. Naturally, I had assumed I should agree with Lisa. I was wrong.
Almost at once I was questioning her phasing of the San Sebastiano monastery. I put down the book, tried another, but was soon drawn back to Lisa's beguiling account. In a nutshell Lisa takes one line from Pope Gregory the Great (r.590-604) to assert that the San Sebastiano monastery was founded in the early 6th century by Servandus, a friend of St. Benedict – who founded the nearby Abbey of Monte Cassino.
From this piece of serendipity Lisa builds a story. The monastery has been bewilderingly rebuilt and she argues that each wall type represents a historical episode. Walls are thus equated to a palimpsest of memories to confect a breathtakingly eloquent story. The bravura is admirable. The archaeological writing and analysis is peerless. But I reckoned it was wrong! The source, I believe, is inconsequential.
Moreover, 5th to 6th century monasteries are essentially unknown in this part of Italy. And, besides, the walls that she attributes to the 5th and 6th centuries look exactly like those welldated at San Vincenzo two centuries later, namely around AD 790.
So I procrastinated.
I did not want to review her book. Would the journal editor forget me? He did not. Eventually I sent my draft to Lisa and asked her to tell me what to do. Characteristically she replied with an avalanche of emails suggesting we visit San Sebastiano, take some mortar samples for carbon 14 dating, and have a good lunch in a ristorante. 'Don't be seduced by her (arguments)', the editor wrote, when I explained the situation… I met Lisa at Anagni, where she is currently excavating a 2nd century imperial palace. With scarcely a pause for reflection we set off to San Sebastiano monastery, her cell-phone constantly buzzing as she one-handedly excavated for it in her hand-bag while telling me all about her latest venture.
San Sebastiano is a gem. Surrounded by olives, it towers over the Samnite acropolis of Alatri, ancient Aletrium 101km south east of Rome. Alatri is itself one of the glories of the region: stupendous cyclopean Samnite walls encase the Hellenistic and Roman acropolis.
The monastery itself sits on a spur overlooking the bowl of the valley. Snowcovered hills rise up behind to form a wall of mountains that run south past Monte Cassino and north to Subiaco. Rain was sheeting down on our arrival but despite the dreary weather, the magnolia in the custodian's garden was blooming and he too seemed delighted to see Lisa. Armed with a bunch of keys the size of candle-sticks he gave us entry to the deserted world of San Sebastiano.
In fact, as Lisa soon explained, the monastery is not deserted. Sir John Leslie, son of an old friend of her father's, in whose Irish castle she stayed when she was a child, is the proprietor.
Sir John is a bean-pole of a man, approaching a century. He still visits the monastery each August and lives in the kind of Dickensian simplicity that is the stock of baronet living. His one indulgence is a painted nun, ghost-like on the far door of a dark corridor. The ghost, if I understood correctly, belongs to his Irish house and was painted here for nostalgia's sake.
The monastery has a glorious compactness to it, concealing two sheltered cloisters – an outer and inner one – within the towering walls that contain myriad phases of construction. Romanesque and 13th century phases are plain to see – the Clarissan nuns from Rome moved into the pre-existing monastery and rebuilt the church and campanile house. More evident still is the work of the Renaissance humanist – Giovanni Tortelli (c.1400-1466). The latter added a huge loggia (a gallery) to the 15th century ensemble as well as two great staircases.
Tortelli's interventions had their imitators too.
The penultimate proprietor, Romolo Giralico, in the 1930s, used fragments of fake inscriptions and sculpture to feign phases that hinted of the Lombard and Romanesque ages. Even in the steady drizzle it is a gloriously intimate place, plainly full of history and memory. And thus Lisa, ever the excited guide, provided an historical commentary on each wall.
Now, though, a critical job must be done.
Grasping a rusty hand-axe to drive her chisel into the mortar grouting of a distinctly curious wall, she prised out a matchbox size wad of cement (with its organic inclusions) and wrapped it in foil to send to the carbon-14 dating laboratory at Oxford. Each sample costs a thousand pounds to analyze, she explained as we waded through the sodden grass to the next testing-point. 'One carbon-14 date will do', she said chirpily, mindful of how cheaply she runs her digs: free accommodation for all, in this case with the ghostly nun in the baronet's fusty rooms; a little petrol money; and eager, willing academicians and students.
So the big question: was – as Lisa believes – San Sebastiano founded in the age of St. Benedict, on the road south from Rome and Subiaco, towards the new hub of Monte Cassino that attracted any number of pilgrims? Or – as I suspect – was it founded in the age of Charlemagne, as the celebrated but liminal area came to have new meaning for his new Europe, lying as it did on his southernmost frontier? Looking at the walls as Lisa chipped away with her chisel, I could not conceal my admiration for her gusto and enthusiasm, as well as her intellectual passion. But was I convinced? Looking out from Alatri's acropolis, towards San Sebastiano, I understood why she wanted her version of the monastery's history since it gives this landscape a telling link between classical antiquity and the Middle Ages. Indeed, I rather hope the samples might provide an ambiguous date to permit us to pursue our amicable debate on future occasions.
The carbon-14 result should be known this August.
---
This article is an extract from the full article published in World Archaeology Issue 24. Click here to subscribe