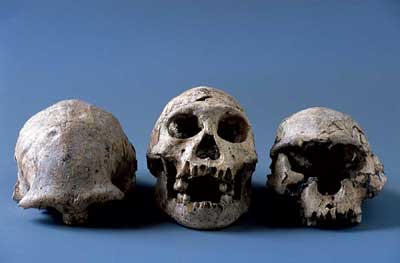 Dmanisi in Georgia, to the south of Russia was once one of the cities of the Silk Road. However, it is now deserted, and when the archaeologists began working in the ruins above they soon began finding the bones of long extinct animals, – elephant, gazelles and rhinos. Even more excitingly, they found several skulls of a most unusual form, half the size of modern man – smaller indeed than those of Homo erectus which is usually considered to be Man's main ancestor and the first man to break out of Africa and spread across Asia to Peking and Java.
After a long debate as to the position of the Dmanisi hominids in the evolutionary tree, the bones were recently dated by the Berkeley Geochronology Center to around 1.75 million years ago. The skulls found from Dminisi appear to be those of the earliest hominids ever to emerge out of Africa.
David Lordkipanidze, who is directing the work, has recently won a Rolex Award for Enterprise for $100,000, and will be devoting the money to providing a dome of steel and glass to protect the site.
---
This article is an extract from the full article published in World Archaeology Issue 9. Click here to subscribe