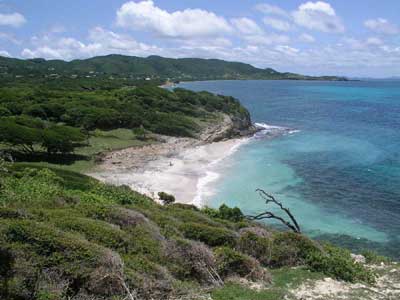 Away from the big resorts and private villas of other nearby islands, the small island of Carriacou is a sleepy stopover for only the most adventurous of tourists and sailors. It was said to be 'the most beautiful of all the little isles', by French explorer Jean Baptiste du Tertre in 1656, the first European to visit Carriacou. Though he went on to remark that it had many sheltered bays, and could probably sustain a colony, he made no mention of meeting any islanders during his visit. This seemed to be the ultimate desert island, but was this really the case? Did anyone live on this remote island before Europeans arrived? And if so who? And how?
To answer these questions, for the past six years our international team has been surveying and excavating on the island. The results have surprised even us; Carriacou is not just an island paradise: we have uncovered an archaeologists' paradise. But before we arrived on the island, our picture of Carriacou was decidedly patchy. The island is part of the tri-island nation of Grenada and, like much of the Grenadines, had been largely neglected by archaeologists. Though a scattering of archaeologists had made short and sporadic visits to Carriacou since the 1960s, and had identified a few pre-European Amerindian sites on the island, little was really known about the island before the modern era. So, in 2003, together with archaeologists Quetta Kaye from the UK and Michiel Kappers from the Netherlands, we conducted our first survey of the entire island, which covers about 32 square kilometres. We found – or relocated – a dozen Amerindian sites, several of which are extremely archaeologically rich. Two, in particular, are changing the very way in which we view the pre-Columbian settlement of the Caribbean. Of these, the site of Grand Bay offers fascinating insights on Amerindian life in the region.
Grand Bay marks the spot
The beatific Grand Bay is situated on a sandier portion of the more rugged eastern coast of Carriacou. Michiel had already visited it in 1999 and his photos showed a site awash with thousands of sherds, animal bones, shell, tools, and in some places, human remains. Grand Bay had long been known by locals and visitors as a good location to find old pottery and other artefacts for their personal collections. Therefore, even before our work began, we knew that this site was special – not only for its size (it stretches for over 120m along the coast) – but for the sheer quantity of material visible on the surface. Rarely has such a site been found, let alone investigated, in the Caribbean.
---
This article is an extract from the full article published in World Archaeology Issue 38. Click here to subscribe