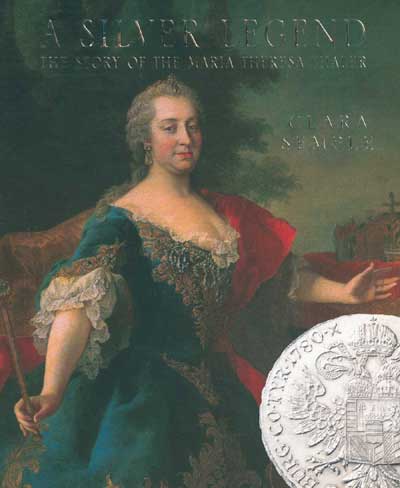 Scattered across the globe are millions of the handsome 28 gram silver coins known as the Maria Theresa Thaler (MTT). First struck in 1741 the Habsburg coin has been minted ever since the death of the Empress in 1780 carrying that date on the reverse.
More than 400 million have been stamped out from mints in Europe (including the Royal Mint) and Asia. Its uniform high quality and near universal acceptance as a trade coin made it the world's first international currency. The coin was used as currency in Oman and Yemen until the middle of the last century.
Traders and craftsmen melted down huge quantities of the coin to create jewellery and dowry pieces in Arabia and Africa. Speculators played on the silver price and moved huge consignments between Europe, Aden and Imperial India. Countless thalers have been strewn across the globe: consignments have gone down in ships, cargoes of thalers were lost in two RAF aircraft crashes in Southern Arabia and coins were dropped from camel bags and mule caravans as they traversed deserts and mountains.
Once the well travelled coins arrived they were lost in situ too: a common place for safe storage of caches of the coin was embedded in the walls of houses and many are buried under the rubble of abandoned adobe and stone settlements. There are also numerous misty tales of vast hoards buried in subterranean chambers in the deserts of Arabia by dispossessed local rulers and despots.
Today there are intriguing finds: such as the stories reported to the author of a rare gold MTT (only several were struck) uncovered in a back yard, tumbledown privy in pre-Katrina New Orleans and a rare variant (dozens of slightly differing dies were used to strike the coin) discovered recently in the Northern Cape on the terrain of a battle site of the Anglo-Boer war. With such numbers and the vast spread of the coin there will be certainly more finds while today's traveller will readily come across thalers in markets around the world.
The author Clara Semple forged an archaeological career in Egypt and Sudan recording temple reliefs and has travelled and lived across the Middle East. From its origins at the heart of the Habsburg Empire, she presents a fascinating and entertaining narrative of this migrating object of material culture in a richly illustrated volume. This is a multi-faceted story of a coin that has been involved in international intrigue, rescues and ransoms, slave trading, smuggling, bounty and speculation. And the adventure is not over for the Thaler is still being minted in Vienna.
Review by Peter Harrigan, a publisher, who writes on the Middle East.
---
This article is an extract from the full article published in World Archaeology Issue 27. Click here to subscribe