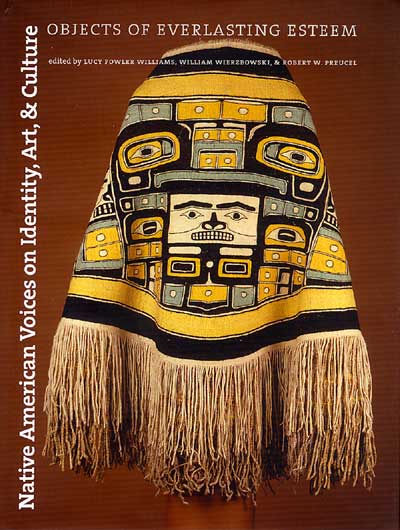 The University Museum's North American collections are justly famous and owe much of their existence to Louis Shotridge, a Tlingit elder from Southeast Alaska, as well as many anthropologists and curators – among them the redoubtable Frederica de Laguna.
To pioneers like Shotridge and de Laguna, the objects they collected had a greater significance than merely being examples of Native American artistry. In recent years, too, American anthropology museums generally have realised that their collections and exhibition practices were not neutral acts. Their displays tended to exist within a one-sided power relationship between native peoples and the US Government and were intimately associated with colonialism. The University Museum and other such institutions have taken a long, hard look at redefining the way they meet their responsibilities to Native American societies and to the world as a whole. Objects of Everlasting Esteem is part of this redefinition.
The three editors, two keepers of the Museum's American Collections and the curator associated with the North American archaeology collections, invited 75 distinguished Native Americans from many walks of life to comment in any form they wished on selected artefacts and objects from the collections. Fifty-nine of them accepted the invitation. The resulting volume is a lavishly illustrated chronicle of what the editors call The Social Lives of Native American Objects, divided into five broad categories. Hands commemorates Acts of Creation with origin tales, poems, short essays honouring objects, their history and significance. Hearts is about compassion and strength, about artefacts that inspired, changed history, and offered encouragement and solace. Spirits uses blankets, headdresses, masks, staffs, and shamans' dreams to commemorate guidance from spirits and ancestors, what one contributor calls 'the nestling of our world that goes on and on.' Footsteps defines lives through biography and experience, where blankets, garments, and clay pots recall memories and place contemporary experience in a context of deep, and often only dimly remembered, history. Finally, Eyes looks forward to the future, to the ways in which artistry of all kinds—pipes, pot making, weaving and embroidery, to mention only a few—reinforce identity and strengthen important values.
As the archaeologist Joe Watkins says in the last essay, the artefacts of the past are 'beacons from their makers' that are worth listening to for guidance and encouragement. This magnificently illustrated, fascinating book is an indispensible, thought-provoking primer on how artefacts and artistic creations of the past can inform the present and the future.
Review by Brian Fagan, Professor of Anthropology at the University of California, Santa Barbara, fan of kayaking and indigenous North American culture.
---
This article is an extract from the full article published in World Archaeology Issue 30. Click here to subscribe