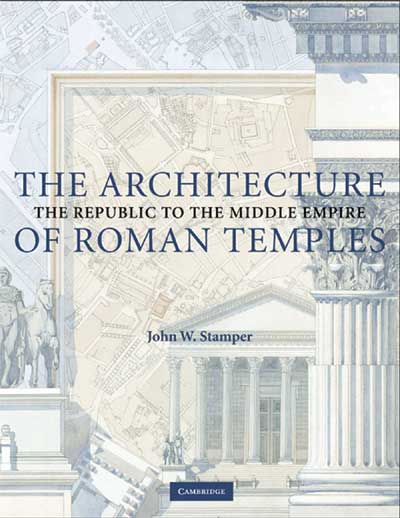 The starting point of Stamper's book is his reconstruction of the original Temple of Jupiter Optimus aximus on the Capitoline Hill in Rome, built c.525-509 BC.
Part of the aim of his reconstruction is to take account of recent archaeological work on the site and to situate the temple more comfortably within the construction techniques available to its builders. This reduces the temple to some two-thirds the size of previous reconstructions. It also allows Stamperto suggest that the temple had a much greater influence on later Roman temple design than is usually allowed. The temple, even in reconstructed form, remains twice the size of any of its contemporaries; however, at this scale it can be seen how later temples, such as Augustus' Temple of Mars Ultor and Hadrian's Pantheon, make direct reference to their predecessor.
More interestingly, Stamper uses these references of scale to build up the idea of the Capitoline as a significant symbol of the founding of Rome, one to which later systems of government would still want to make reference in order to bolster their own authority. Similarly, an analysis of the site as a templum, a sacred space holding multiple houses of the gods, can be seen as authorising similar later clusters of temples in the ever-expanding capital city.
This also supports his concept of the authority of religious precedent: once spaces have been marked out, they remain sacred; and likewise, once a plan of a temple has been laid out, later rebuilding work tends to follow a similar plan form, even if decorative schemes move on to reflect contemporary taste and iconographies of power.
This book may seem a little old-fashioned in its straightforward analysis of the temples in chronological sequence, and it is very black and white, with lots of great architectural drawings by the author and his students, but no colour except on the cover. Thus, it is a book with an almost Platonic focus on plan and form to the exclusion of texture and colour.
That said, this is a worthwhile addition to the library of anyone with more than a passing interest in the temples of Rome. It is quite accessibly written, and probably light enough to pack for that more serious weekend in the Italian capital.
Review by Dr Keith Robinson, Associate Tutor in Archaeology and Art History at the University of Sussex.
---
This article is an extract from the full article published in World Archaeology Issue 37. Click here to subscribe