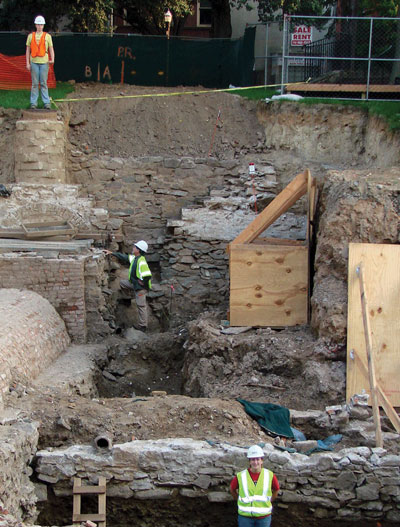 The first ever excavation of a cementation steel furnace in America – in Trenton, New Jersey – is throwing new light America's growing self-sufficiency as a manufacturing nation. Dating from between 1745 and 1750, this is one of fewer than 20 such furnaces known to have been built in 18th century North America to turn wrought iron into steel.
To investigate what remains of the mill, Ian Burrow and Richard Hunter, both of Hunter Research, took 12 months to excavate the deep urban deposits that lie on either side of the now-underground stream of Petty's Run in Trenton, working down through later structures on the site, which included a cotton mill, a paper mill, and terraced housing. The long sought-after furnace finally emerged towards the end of the excavation when the footings were found for the furnace chamber, in which chests were once placed containing iron bars interbedded with charcoal; under prolonged heating, carbon was absorbed that transformed the iron into 'blister steel'.
Simple as it sounds, the process was a jealously guarded secret and poorly understood in scientific terms. Technically, the furnace was probably illegal, too, as the 1750 Iron Act was designed to prevent the colonies from developing the skills to produce finished products. Instead, America was expected to send its raw pig and bar iron across the Atlantic to fledgling steel production centres in Sheffield, Ironbridge, Birmingham and Blaenavon; 'exactly the kind of British strong-arming that helped fuel the lead-up to the Revolution,' says Ian Burrow.
British efforts to create a monopoly in steel for export to the New World did not work, however. The Trenton Steel Works flourished for some 40 years and supplied steel to the Continental Army in 1776, thus directly assisting the American Revolutionary War. Today, what remains are some lumps of unexciting slag and fire-damaged brick, but it was on such humble materials that, ultimately, the mighty American steel industry – and American independence – was built.
---
This article is an extract from the full article published in World Archaeology Issue 39. Click here to subscribe