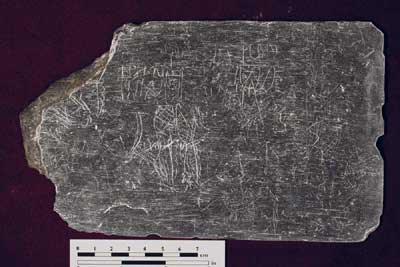 Aslate tablet covered on both sides with sketches of birds and flowers has been found in a well that was probably dug under the direction of Captain John Smith in early 1609 at James Fort, Virginia, the site of the first permanent English settlement in America. Excavation director Bill Kelso says that the drawings on the slate offer 'dramatic evidence of how captivated the English were by the natural wonders of the New World'.
As well as depicting New World wildlife, the sketches also include a portrait of a man in ruffled collar as well as the words 'A MINON OF THE FINEST SORTE' and the letters and possibly a date 'EL NEV FSH HTLBMS 1598' interspersed with symbols that have yet to be interpreted. 'Minon' could refer to a servant (minion) or to a type of cannon of the kind that was used at the James Fort site.
Bly Straube, the archaeological curator for Preservation Virginia at Historic Jamestowne, said that broken roofing tiles were often used as notebooks in 17th-century England because they could be reused over and again. 'Some of the drawings are quite sophisticated while others are crude, indicating that more than one person used the slate,' she said. Although the slate may have been wiped clean repeatedly, the Jamestown team is using high resolution scanning techniques to highlight the faint pattern of grooves that survives from earlier use to extract hidden text and drawings.
The slate was found a few feet down in a well located in the centre of the fort. The excavators believe that this was the fort's first well and that it was dug in early 1609 (almost two years before the fort was established). Records suggest that a new well was dug by 1611 and the old shaft was then used as a rubbish pit. 'We are discovering more and more every day as we excavate the well', said Bill Kelso, who added that 'the full analysis will go on probably forever'.
The datable finds from the well – that include trade beads, Native American ceramics, locally produced tobacco pipes, London coarsewares, German Bartmann jugs, and Anglo-Netherlandish apothecary jars – confirm a probable date of 1611 for the fill.
Another star find is a baby's coral and silver teething stick which, according to Bly Straube, 'could have belonged to one of the handful of children who arrived with women in the summer of 1609'.
---
This article is an extract from the full article published in World Archaeology Issue 37. Click here to subscribe