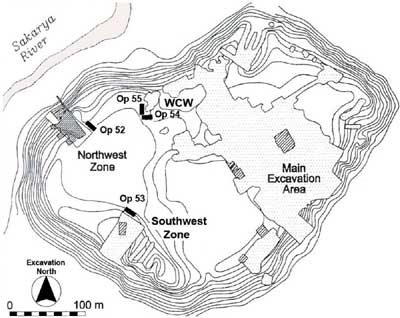 The first Roman auxiliary base to be identified within the boundaries of modern Turkey has been found in Gordion, the ancient capital of Phrygia. The discoveries were made by Andrew Goldman, of Gonzaga University, Spokane, USA, and Julian Bennett, of Bilkent University, Ankara, Turkey.
Gordion itself was unearthed during the construction of the Berlin-Baghdad railway in 1893. Previous excavations carried out by the Gordion Excavation Project, based at the University of Pennsylvania Museum of Archaeology and Anthropology, focussed largely on the remains of the 1st millennium BC city, whose most famous king was Midas, the gold-loving late 8th century BC ruler (Mit-ta-a in contemporary Assyrian sources).
More recent work has concentrated on the post-Phrygıan levels, with Goldman directing work on the Roman period horizons. Some of the Roman period material from Gordion had already alerted Goldman and Bennett to possible military reuse of the citadel mound during the early 1st century AD. Certain of the Roman pottery from the site could not be paralleled in Anatolia, but comparable material was found at Julio-Claudian and Flavio-Trajanic military sites along the Rhine and Danube. Finds of a Roman military tombstone of Trajanic date and three brooches of types common to 1st century AD military contexts in Central Europe provided further evidence of a Roman military presence. When Goldman obtained permission to dig four trenches in 2004 and 2005, a stone and mud brick building was discovered, which Bennett identified as part of a Roman military barracks because of its characteristic contubernia, rows of rooms divided by a cross wall into an arma (armoury) to the west and papilio (sleeping area) to the east. Associated with the barracks were finds of copper alloy harness pendants of Roman military type, pieces of ring-mail armour and the copper alloy and iron scales from flexible scale armour. Some of these metal finds have direct parallels on Roman military sites in the Balkans and in Syria, while some of the pottery found with the building can be broadly paralleled amongst material from military sites of mid 1st to early 2nd century date in Britain and on the Rhineland.
Analysis of the excavated material for final publication now continues under Goldman's supervision, while Bennett continues to work on the military artefacts. On the basis of the finds so far, and on the historical evidence, it is possible that a military headquarters may have been established here as a supply base during Nero's Armenian campaigns of AD 57- 61, continuing in this role until the end of Trajan's Parthian War, only to become redundant when Hadrian rationalised army deployment in Anatolia in AD 117. A brief renaissance occurred in the 4th century, by which time Gordion may have been known as Vindia, a civilian settlement named in Roman geographical sources but previously unlocated.
---
This article is an extract from the full article published in World Archaeology Issue 28. Click here to subscribe