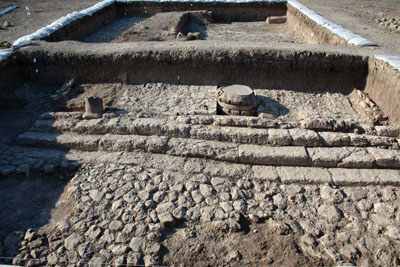 The discovery of a monumental temple constructed during 10th/9th Century BC at Tell Tayinat, on the Plain of Antioch in south-eastern Turkey, suggests that not all was as dark in the so-called 'Dark Age' of Near Eastern archaeology as has been previously suggested.
In some parts of the Near East, the transition from the Late Bronze Age to the Early Iron Age was marked by widespread famine, ethnic strife and population movement, including the battles of Homeric epic and the migrations of the Sea Peoples (or biblical Philistines) and of the Israelites.
But the discovery of a remarkably well-preserved temple reveals that some ruling dynasties survived the collapse of the great Bronze Age powers. Tayinat, which later historical sources suggest was the site of Kunulua, royal city of the powerful Kingdom of Palastin, is known from excavations carried out by the University of Chicago in the 1930s to date to the Early Bronze Age (c.3200—2000 BC). The building of this monumental temple during the critical transition period to the Iron Age suggests continuity rather than collapse in a city strategically situated at the junction between the Anatolian highlands to the north and the lowland steppes of Syria and the Levant to the east and south.
Excavations in 2008 uncovered the temple's southern approach, which once faced a broad stone-paved courtyard, and consisted of a monumental staircase and porticoed-entrance, supported by a large, ornately carved basalt column base. Fragments of monumental stelae were also found, carved with inscriptions in the Luwian hieroglyphic script once used in city-states of Southern Anatolia and Northern Syria.
The central room beyond the porch had suffered an intense fire and was filled with heavily charred brick and wood, as well as a substantial quantity of carved ivory fragments and bronze (including riveted pieces) from furniture or wall fixings. Fragments of gold and silver foil were also found, along with the carved eye inlay from a human figure.
'Our ongoing excavations have not only begun to uncover extensive remains from the Dark Age, but the emerging archaeological picture also suggests that Tayinat continued to be the capital of a powerful Iron Age Kingdom controlling much of the North Orontes Valley and Western Syria during this period,' says Timothy Harrison, Professor of Near Eastern Archaeology at the University of Toronto and the director of the Tayinat Archaeological Project (TAP) project. 'We may well learn more during this year's excavations when focus is on the northern section of the temple, where we believe there is an inner room, perhaps the temple's cella, or 'holy of holies", he added. •
---
This article is an extract from the full article published in World Archaeology Issue 36. Click here to subscribe