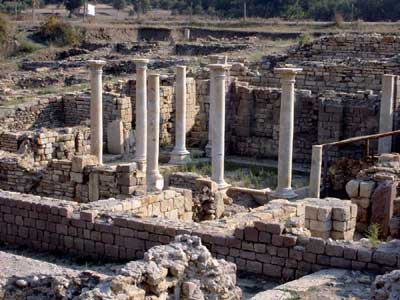 Europa Nostra, the Pan-European Federation for Cultural Heritage (see the News section of this issue), has alerted CWA to the final drive of its urgent appeal to save the important Roman site at Allianoi in Turkey. The campaign was launched in 2005 but time is now slipping away and the site is under imminent threat from dam flooding.
If no urgent action is undertaken, the Roman Baths at Allianoi will disappear under the rising waters of an irrigation dam. Europa Nostra's campaign has certainly contributed to the damming delays so far – however a lasting solution is necessary and Europa Nostra are thus seeking direct support from CWA readers. It is only by continued protests that we can bring a change to the Turkish government's standpoint.
What to do? Please visit the Europa Nostra website page: www.europanostra.org/save_allianoi.html where they are collecting supporters' emails of protest; or write a letter to: [email protected]; or by post to: Allianoi campaign, Europa Nostra, Lange Voorhout 35, NL – 2514 EC, The Hague, The Netherlands. Alternatively, contact Eléonore de Merode on +31 70 302 40 52.
Europa Nostra needs your signatures or letters now, and by the end of February 2008 at the latest.
Class A Allianoi
So why help this campaign? Allianoi is wonderful. It has been adjudged a Class A archaeological site. It contains important remains from a major building programme during the reign of the Roman Emperor Hadrian (AD 117-138). As is evident from the accompanying images, a large part of the complex is preserved to a height of two stories. It features a courtyard with six columns and well-preserved floor mosaics. A second fine colonnaded courtyard belongs to what was probably a healing spa complex. Archaeologists have also identified a number of installations for the production of glass and pottery, paved streets and a cult site sacred to Demeter. Moreover, the presence of a thermal bath site in the countryside is a rarity since most Roman baths were situated in towns.
To date, over 35,000 people have called for the rescue of Allianoi. Additional support from pro-active CWA readers might make the vital difference.
Thank you for any support!
---
This article is an extract from the full article published in World Archaeology Issue 27. Click here to subscribe