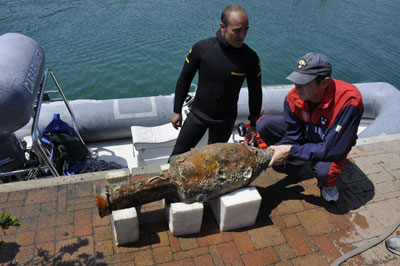 The well-preserved wreck of a 2,000-year-old Roman merchant ship carrying hundreds of clay amphorae has been found off the coast of Italy.
Following a tip-off by fishermen who reported finding pottery fragments in their trawler nets (see CWA 54 for more on the impact of commercial fishing on underwater heritage), researchers from the Genoan Police Divers Centre investigated the site using a remotely operated vehicle.
The wreck was discovered 70m underwater, buried in mud. Lt Col. Francesco Schilardi, commander of the Police Divers Centre, told CWA that these conditions made it difficult to determine the exact size of the vessel, but had also protected her lower hull and cargo.
'We believe this is a medium cabotage (coastal) ship, but it is impossible to say more without excavation,' Lt Col. Schilardi said. 'The top surface has been damaged by fishing activities, but the lower part is intact, containing several hundred jars.'
He added: 'Our site lies on the trade route between Rome and Spain, and in the 1st-2nd century AD this kind of jar was used to transport olive oil, olives, pickled fish, and wine along the coasts of the Mediterranean.'
The recovered amphorae are undergoing conservation at the regional Superintendence of Cultural Heritage, and a restricted zone excluding fishing and water traffic has been set up around the site while Italian authorities determine whether to raise the wreck.
---
This article is an extract from the full article published in World Archaeology Issue 55. Click here to subscribe