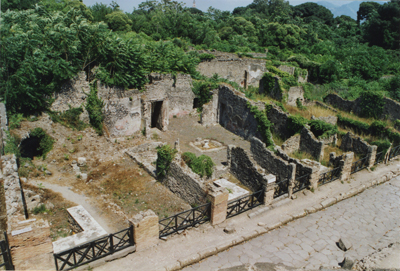 Questions are being asked about the cultural priorities of the Italian Government in the wake of recent structural damage to the ancient Roman ruins at Pompeii. Italy's own President, Giorgio Napolitano, described as 'a disgrace' the collapse on 6 November 2010 of the Schola Armaturarum Juventus Pompeiani ('the House of the Gladiators'), and with it the partial destruction of the frescos of gladiators that gave the building its name.
Heavy rains were blamed for the collapse, and also for the damage caused last year on 30 November, when a terrace and wall protecting the House of the Moralist fell down (so named because of the house rules inscribed on the wall of the property asking visitors to 'keep your feet clean, don't dirty the linen, have respect for other men's wives and don't argue').
Critics, though, say the cause is a lack of resources. The Berlusconi government has made deep cuts to state spending on heritage, reducing maintenance budgets for the nation as a whole from €30m to €19m. The collapse has drawn attention to the scale of the task facing Pompeii's custodians, the Soprintendenza Archeologica di Napoli e Pompei (SANP) and the Italian culture ministry. Pompeii expert Andrew Wallace-
Hadrill, Master of Sidney Sussex College, Cambridge, and former Director of the British School at Rome, defends the site custodians from accusations of neglect saying that they 'are doing the best that they can in a difficult situation'.
He told the media that Pompeii will suffer a 'second death' without constant efforts to conserve the site: 'It is quite possible to spend tens of millions [on maintenance] and still not protect the site. Ultimately, we're trying to get more out of these unique structures than they were ever designed for.'
Italy's Culture Minister, Sandro Bondi, has responded to the situation by announcing the establishment of a new foundation to assess the state of decay and decide what action to take. Some are concerned that Bondi favours the restoration of a select number of prestige buildings, rather than a programme of continuous small-scale maintenance across the whole of Pompeii.
---
This article is an extract from the full article published in World Archaeology Issue 45. Click here to subscribe