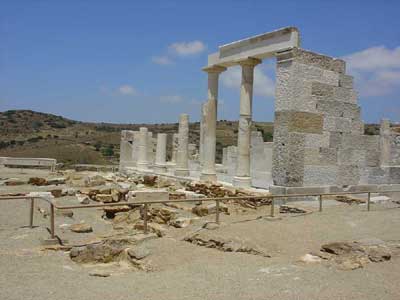 On Friday 4 June 2004, The European Union and Europa Nostra – the pan-European federation for heritage -announced the winners of the European Union Prize for Cultural Heritage/Europa Nostra Awards 2003 at a European Awards Ceremony at the Allerheiligen Hofkirche in Munich.
Europa Nostra's President, HRH the Prince Consort of Denmark, and Mr Harald Hartung, Head of Culture Unit at the European Commission, presented the awards to 41 laureates from 18 countries. The six categories cover all aspects of cultural heritage, including architecture, art and archaeology. Six monetary prizes of 10,000 Euros were awarded to the top laureates, while medals and diplomas were respectively awarded to the second and third prizes in each category. The Greek team working at Naxos – see this issue – were the proud winners of the first prize in archaeology.
This European Union Prize for Cultural Heritage was launched in 2002 by the European Commission, as part of the implementation of the EU Culture 2000 Programme, and aims to promote high standards and quality skills of conservation practice, and to stimulate trans-frontier exchanges within the heritage field. While Europa Nostra was chosen to manage and administrate this Awards Scheme because of its long experience in this field.
For more information, or if you have a suitable project that you would like to submit for the 2004 awards (before the deadline of 15 September), please see: www.europanostra.org.
---
This article is an extract from the full article published in World Archaeology Issue 6. Click here to subscribe