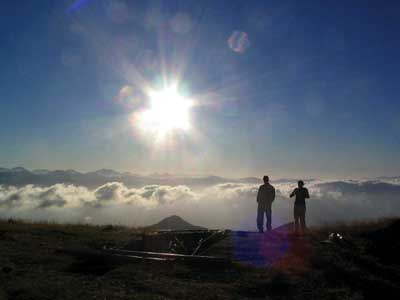 Zeus, king of the gods in the Greek pantheon, was born on the slopes of Mount Lykaion, one of the tallest peaks in the Peloponnesian region of Arcadia. His mountain-top sanctuary, one of the most celebrated shrines in the ancient world, was the site of an ancient athletics festival to rival that of Olympia. That annual festival, held in May, probably dates from at least 700 BC. The annual sacrifices made on the mountain top built up over half a millennium to create an altar of ash, made from the burnt bones and entrails of sacrificial animals.
Last summer, a small excavation trench was placed through the ash altar by the members of the Greek-American Mount Lykaion Excavation and Survey Project team who discovered that the site was being used well before the name of Zeus became associated with the peak sanctuary. Early Helladic pottery sherds indicated activity from as early as 3,000 BC. In addition, a rock crystal seal bearing an image of a bull, of probable Late Minoan date (1500-1400 BC) was found within the deposits, suggesting an early connection between Arcadia and Minoan Crete, long claimed as an alternative birthplace of Zeus. David Gilman Romano, Senior Research Scientist at the University of Pennsylvania Museum of Archaeology and Anthropology and a co-director of the Mount Lykaion Excavation and Survey Project, said, 'The fact that the ash altar to Zeus includes early material dating back to 3,000 BC suggests that the tradition of devotion to some divinity on that spot is very ancient. The altar is long standing and may, in fact, pre-date the introduction of Zeus in the Greek world. We do not yet know how the altar was first used, and whether it was used in connection with natural phenomena such as wind, rain, light or earthquakes, possibly to worship some kind of divinity, male or female, or a personification representing forces of nature.' Several ancient authors mention that human sacrifice was practiced at the altar of Zeus. Animal bones were recovered from the altar excavations in large quantities and analysis is still underway, but the team has yet to find any human bones.
The project will continue its excavations at the altar, and at other areas of the sanctuary, through to 2010, and it is hoped that an archaeological park will eventually protect nearly 300 square kilometres of land in and around the site (see the project's website at lykaionexcavation.org).
---
This article is an extract from the full article published in World Archaeology Issue 28. Click here to subscribe