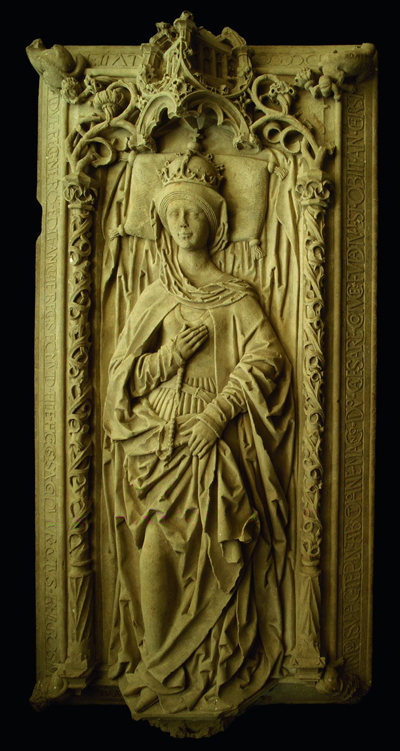 Human remains found wrapped in costly dyed silk in Germany's Magdeburg Cathedral in 2008 have been confirmed as those of Eadgyth (pronounced 'Edith'), the wife of the Holy Roman Emperor Otto I and granddaughter of England's Alfred the Great.
Archaeologists at the UK's Bristol University announced the results of tests to measure the isotopes in the teeth from the upper jaw. Dr Alistair Pike said that micro sampling 'allows us to reconstruct the sequence of a person's whereabouts, month by month up to the age of 14.' In this case, the results pointed to the chalk regions of southern Britain, and exactly matched historical records of Eadgyth's childhood and adolescence in Wessex.
Professor Mark Horton, added: 'Eadgyth seems to have spent the first eight years of her life [AD 910-18] in southern England, but changed her domicile frequently, resulting in quite variable strontium ratios in her teeth. It is likely that she moved around the kingdom following her father, King Edward the Elder, during his reign. Her remains show femur lesions typical of someone who was a frequent horse rider'. Only from the age of nine do the isotope values remain constant. This was a traumatic period in her life, when her mother was divorced and she and Eadgyth were banished to a monastery – maybe Winchester or Wilton in Salisbury. Isotope analysis of the bone revealed a high protein diet consistent with a monastic diet consisting largely of fish.
Ten years later, in AD 929, Eadgyth and her sister Algiva were sent to Saxony by their half-brother, King Athelstan of England, as potential wives for Otto, Duke of Saxony, later crowned Holy Roman Emperor. Otto chose Eadgyth as his bride, and they had at least two children before she died on 26 January 946, at the age of 36. Her bones will be reburied in Magdeburg Cathedral later this year, 500 years after their last interment in AD 1510.
---
This article is an extract from the full article published in World Archaeology Issue 43. Click here to subscribe