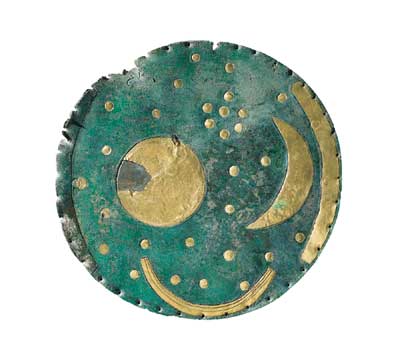 Nebra is proving to be a rich archaeological area with the breaking news of the discovery of a lord and his retainers in a 4,200 year-old burial mound at Nebra in Germany. The newly excavated mound is one of at least eight 'barrows', within view of an ancient enclosure explained archaeologist Olaf Schroeder.
Government archaeologists began excavating in the wooded area after being tipped off that treasure-hunters were digging there in search of gold.
First, they discovered the skeleton of a sentry just inside the entrance to the grave. Then, digging deep within the barrow, they found the Bronze Age burial chamber, fully lined with sandstone slabs and measuring 2m sq, but with the roof having sagged to about 0.5m high. The inner tomb has been dated to 1000 BC, making it much newer than the mound itself.
The so-called lord lay in the centre. However, his upper body and legs were missing. Was he the victim of a brutal attack? With him were a precious bronze knife and a bronze needle, but most startlingly 'the remains of his court lay in a circle round him. The skulls were deformed. These people had died violently', explained Schroeder. His companions in death had been killed with a blunt instrument, and included three children, aged four, five and 10. The eldest child, a girl, still had her spiral-shaped bronze earrings lying by her skull.
---
This article is an extract from the full article published in World Archaeology Issue 12. Click here to subscribe