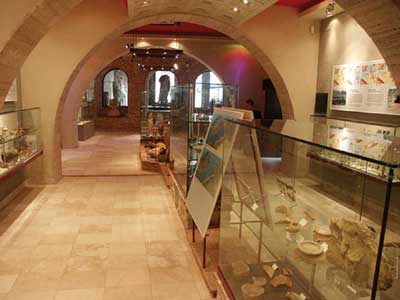 The Butrint Museum, Butrint's first museum, was opened in 1938 to highlight the plentiful, and largely Graeco-Roman finds, from the Italian Archaeological Mission of the 1920s and 1930s, writes Richard Hodges, Director of Albania's Butrint Foundation. However, the museum languished somewhat over the decades. It was eventually given a new lease of life in the late 1980s – while Albania was still an isolated communist country – with a thorough refurbishment that sought to project a nationalist spirit to a trickle of visitors.
Now, in the new spirit of political openness, the Museum has undergone a total re-vamp. On 22 October 2005, the renewed museum was opened by Prime Minister Sali Berisha and Lord Rothschild. This represents a collaborative effort between the Butrint Foundation and the Albanian Institute of Archaeology, with funds from the Leventis Foundation and the Packard Humanities Institute.
The team, reports Hodges, has created a modern and elegant museum that aims to relate the full history of Butrint – from its early days as an Aesclepian sanctuary, to its growth as a large Roman Colony, its late-antiquity conversion to a regional bishopric, to its slow medieval decline as a remote fishing station and military outpost of Venetian Corfu and into the modern Communist era. Unlike earlier colonialist and nationalist displays, the new exhibition charts the history of Butrint as a microcosm of Mediterranean history, occupying an ever changing lagoonal micro-region.
Vivid reconstruction drawings by the Studio Inlink (Florence) and photographs from the Butrint archive, help to make this an exceptionally attractive display.
---
This article is an extract from the full article published in World Archaeology Issue 14. Click here to subscribe