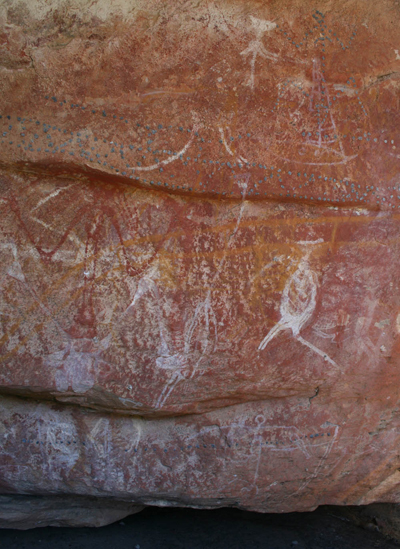 Australian academics and members of the Aboriginal community working together to record and protect rock art in the Wellington Range, Arnhem Land, have discovered evidence of Southeast Asian sailing vessels visiting Australia in the mid-1600s – the oldest 'contact rock art' yet discovered in Australia. The rock shelter at Djulirri has nearly 1,200 individual paintings and beeswax figures, one of which depicts the characteristic prow of a Southeast Asian sailing vessel known as a prau. A large beeswax snake overlying the ship has been radiocarbon dated by Stewart Fallon at the Australian National University (ANU) to between AD 1624 and 1674, providing a minimum age for the painting of the sailing vessel.
The discovery was documented by Paul Taçon (Griffith University), Ronald Lamilami (Senior Traditional Owner) and Sally May (ANU). The Djulirri site where the ship depiction was found 'has more diverse contact period rock art than any other site in Australia', said Professor Taçon. 'Besides paintings of Southeast Asian ships, there are European tall ships and many other forms of watercraft, all of which can be placed in chronological sequence.'
While historians and archaeologists have speculated that visits to the northern parts of Australia from Southeast Asian ships have been happening for hundreds of years before European settlements, this is the first rock art evidence found that dates the visits back to the 17th century. The research will be published in a forthcoming issue of the journal Australian Archaeology.
---
This article is an extract from the full article published in World Archaeology Issue 43. Click here to subscribe