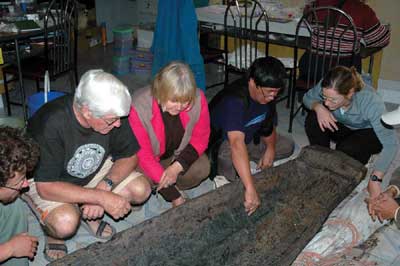 Australian archaeologists have excavated one of the oldest log canoes ever found in South-East Asia.
The boat, dated to around 100 BC, was found at Dong Xa, which is about 50 kilometres south-east of the Vietnamese capital of Hanoi. Although the canoe may have initially been used as a sailing vessel around the Red River Delta region by a people known as the Dongson, it ended its time as a burial device. When excavated, it was found to contain an adult body covered by a shroud and surrounded by pottery, a lacquer bowl and copious quantities of prehistoric matting.
The fabric and matting are surprisingly well-preserved, while the bark lid and wood of the coffin are also in good condition, report the project's conservation team from the National Museum of Australia. Samples of the textiles and the bark lid and wood of the coffin are currently being analysed in Canberra. The wood is to be impregnated with polyethylene glycol, and after conservation by the National Museum, will go on display in the local Hung Yen Museum.
Dong Xa is proving to be archaeologically rich. The team, led by Professor Peter Bellwood from The Australian National University, has also excavated the grave of a young child at nearby Yac Ben.
---
This article is an extract from the full article published in World Archaeology Issue 9. Click here to subscribe