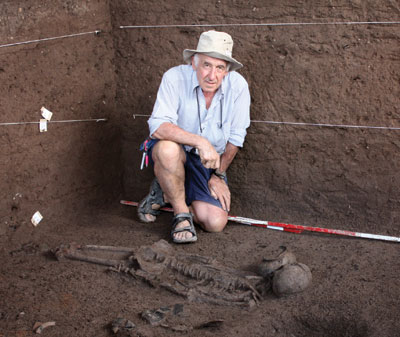 Non Ban Jak will soon be slumbering again in the heat of the dry season here in Northeast Thailand. The huge mound rises above the rice fields, demarcated by two moats and banks. Excavations here began last year and revealed, for the first time in such a site, house foundations, rooms, floors, and even a lane in the residential part of the Iron Age town.
For the last month and a half, the site has been the scene of lively activity again, as our 30 or so Thai villagers arrive each morning on their motorbikes to help us delve deeper into its past. We were unable to reach the bottom of the site in last year's excavation square, so our first task has been to continue there. It has been a momentous voyage of discovery.
We know so little about these sites, only a handful has ever been opened by excavation. At nearby Noen U-Loke, we encountered a cemetery used for the thousand-year extent of the Iron Age, beginning in about 420 BC. There were four phases, the third of which contained outstandingly rich individuals laid out in graves filled with rice, wearing ornaments of iron, gold, silver, carnelian, agate, and glass. At Ban Non Wat, the Iron Age cemetery was extensive, and dated to the initial Iron Age. But where did these people actually live? The answer came again at Non Ban Jak, as we probed deeper, and encountered yet more floors and walls. And luck came our way: one of the houses had suffered a destructive fire that incinerated the clay floor, the hearths, storage areas, the bamboo floor foundations, and their contents.
A trowel's progress
My recent and unexpected need to excavate house floors and wall foundations have lead me to reflect on the summer of 1958 that took me to Roman Verulamium and the excavations directed by my revered teacher, Sheppard Frere. In the dark, back recesses of a shop that once fronted the Watling Street, I was tutored in uncovering successive clay floors, each interleaved with a thin occupation veneer.
Now, at Non Ban Jak, I am the proud owner of Sheppard's trowel, which he generously gave me when, in his own words, his digging days were over. It has F incised on the handle, and it takes me back not just to the floors of Verulamium, but to early morning bike rides along the Sussex Downs to join him at the Bignor Roman villa; and to hot days in the Correze, digging the murus gallicus defences of a Celtic oppidum. When in Oxford, I always drive down to his lovely old rectory in Marcham to keep him up to date with his trowel's progress. But back to Thailand.
By great good fortune, Cristina Castillo joined us to undertake flotation, and assembled probably the biggest sample of provenanced, carbonised rice from prehistoric Southeast Asia. We now await her results to see if there are any weed seeds that reflect the environment in which the rice grew.
She has found that rice was a dryland crop during the Early Iron Age at Ban Non Wat. But there are hints from other sources that an agricultural revolution took place by the Later Iron Age involving ploughing and transplanting rice into prepared bunded fields.
Excavating below the earliest house, and now 4m (13ft) down into the mound, we came across a trail of large potsherds notable for their black colour and lustrous finish. We were confused as to what this configuration meant, until all fell into place. At the end of the trail, we opened a deep, circular pit filled with red daub liberally tempered with rice straw. And as we teased this fill out, it began to dawn on us that we had in place a complete kiln for firing pottery vessels. After removing the last of the collapsed daub that had once been the roof and walls of the kiln, we uncovered the pots left there after the last firing getting on for 1,600 years ago.
But there was a further bonus. Set in among the pots, we uncovered the rusty red signals of something in iron. And when completely revealed, it turned out to be a heavy, socketed artefact looking like a winged spade. We had found an identical such tool 12 years previously in a rich grave at Noen U-Loke just 8km (5 miles) to the east.
Never underestimate the ingrained knowledge of your Northeast Thai rice farmer. Not only are they the best excavators in the world, they also know a lot about rice farming. We laid out this precious iron tool and invited them to interpret what it might have been used for. Almost unanimously, they identified it as a ploughshare. Its asymmetric profile suggests to me that they are right.
Now, a buffalo-drawn plough enables the rice farmer to open much more land to cultivation than a man with a hoe. After the long dry season, the first rains moisten rock-hard soil, but it must be turned and harrowed to convert virtual concrete into the soft creamy mix that encourages healthy rice plants. Curiously, there is very little evidence for ploughing in early Southeast Asia.
The Angkorian inscriptions often refer to rice fields and reservoirs, land boundaries and water buffaloes, but not ploughs. However, there are large and weighty socketed bronze ploughshares from the Dong Son Iron Age in Vietnam, and at 9th-century Borobudur in Java there is a bas relief of a ploughing scene.
Why the Iron Age potters of Non Ban Jak left a ploughshare in their kiln I do not know, but finding it has provided a vital piece of a jigsaw that is slowly taking shape: it is that during the Later Iron Age, there were deep-seated changes in society – rooted in agricultural innovation, warfare, international trade, and the production and exchange of salt – that help us to understand the formation of early states in Southeast Asia.
In the beginning
When planning a dig, I normally choose to open an area as close as I can to the centre of a new site, because, in my experience, this usually provides evidence for the longest sequence. So this season, we opened a small exploratory square as close as we could to the site centre.
With the main square running down as we encountered the water table and natural substrate, so the new one was getting interesting. The first hint came with the rims of three large, lidded ceramic vessels, and each contained the skeleton of a tiny baby. They had been buried wearing miniature bronze bangles, and glass-bead necklaces. At a slightly lower level, we uncovered adult burials. Again, the associated pots, bronze and agate jewellery, and glass beads told us that they were late in the Iron Age sequence. Moreover, the skeletons were lying on the natural substrate, a hard laterite.
It seems, on the basis of evidence from both squares, that Non Ban Jak was first occupied in the Late Iron Age. We find here no hints of Neolithic or Bronze Age settlement. Is it likely, then, that this was a new foundation, chosen as populations in the Mun Valley were growing? If so, one of their first actions seems to have been to construct the massive banks or ramparts that ring the site, in order to capture water from their river and regulate its flow into the moats.
The radiocarbon dates for the construction of these banks and moats fall in the 6th century AD. Early stone inscriptions from Cambodia, dating a century or so later, illuminate these towns with a sudden flash of light: they describe pon – men who headed a community commanding a reservoir, and who apparently descended from an ancestor deity, and therefore were granted greater status. They owned rice fields, and had the right to assign land to followers. Surpluses of rice and cloth were accumulated by pon, who exchanged them for prestige valuables. Most importantly, it was from the most charismatic and thrusting pon that we can trace accelerated social changes leading to the foundation of the kingdom of Angkor in the early 9th century.
So, Non Ban Jak has proved a stimulus and a bonus to my own digging career, which I thought had ended in 2007. I thank Dougald O'Reilly, Louise Shewan, and the Australian Research Council for inviting me back and for supplying the vital funds.
---
This article is an extract from the full article published in World Archaeology Issue 58. Click here to subscribe