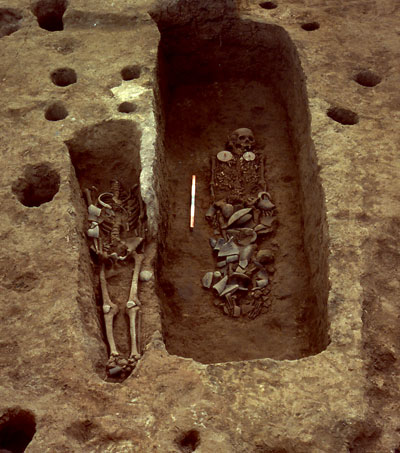 The McDonald Institute at Cambridge University has, for many years, held special symposia on topics that traditionally lie on the 'edge of knowability'.
These involve about 20 specialists, each of whom delivers a brief summary of a pre-circulated paper, before the floor is opened to discussion. I have been lucky enough to be invited to some of these meetings, the most recent being held in April on the subject Death shall have no dominion: the archaeology of mortality and immortality. Papers ranged from the kurgans of the Urals to the Maya, from Malta to China.
I spoke about South-east Asia, a sequence that began with flexed burials of hunter-gatherers to arguably one of the world's greatest tombs, Angkor Wat. Assembling my contribution involved looking back over 40 years of fieldwork, and reflecting on some of the individuals whose graves I have been fortunate enough to uncover.
Kent Flannery once stressed how all human societies have their ambitious and energetic members, and what better way to learn more about their lives than through the rituals that accompanied their death and burial. In all those years, I have often thanked my good fortune to have been able to work in Thailand. I doubt if there is any better excavator in the world than your Thai villager, particularly Thai women. In one of our Bronze Age burials, for example, a prehistoric person had worn rows of shell beads round her neck and waist. The beads, 23,000 of them, remained in place but, of course, the strings that held them together had long since gone. One of my top villagers sat patiently for hours, uncovering them all without disturbing one. And, at the site of Nong Nor, another superb excavator tracked two tin bangles that had the consistency and colour of the surrounding soil.
During a lull in the meeting, I put together a league table of the top prehistoric people I have encountered. Would it be Burial 113 from Noen U-Loke, with her gold bead necklace, or Burial 90 from Ban Non Wat with over 80 beautiful Bronze Age pots? No, I concluded, Burial 15 from Khok Phanom Di would take pride of place. It took me back to February 1981…
I had just finished our season at Ban Na Di in North-east Thailand, and was told by my Thai colleagues of a remarkable new site only an hour's drive east of Bangkok. I eagerly accepted their invitation to visit it the following day. It was visible for miles, a large mound lying on the flood plain of the Bang Pakong River like a stranded whale. We drove up to the Buddhist temple on the top and found, still open, a small excavation square. I descended the rickety bamboo ladder and examined the sections – there were ash lenses, shell middens, even one or two human skulls – that descended over 8m (26ft) into the inky gloom. I then resolved to myself that when I had published Ban Na Di, I would move heaven and earth for a permit to open a large area of this site.
With the support of generous funding from the Ford Foundation, and the vital permit secured, we had a roof constructed to cover a area 10m² (30ft²) and began digging on the 27 December 1984. It would be seven months before we reached the natural substrate, by which time we had progressed downward through seven mortuary phases in which the burials were placed over the ancestors, in clusters, over about 20 generations from initial settlement in the vicinity of 2000 BC.
Thai Princess Di
It was in March that we found the burial of a woman soon to be dubbed the 'Princess of Khok Phanom Di'. Already we had traced a line of graves, including newly born twins, ringed by the posts that formed their mortuary building. Behind lay a raised platform supporting clay walls within which lay three rich burials, two women and a child. But it was the straight line that my trowel began to trace that arrested my attention.
On one side lay white undisturbed ash, and on the other, marbled disturbed fill. I had a bet with my Thai colleague Amphan: he predicted it would be a grave, I chose not to tempt the gods and said it wasn't. The line continued, however, until it was 3m (10ft) long, before turning a right angle. Then another, until a perfect rectangle was exposed. We then began to remove the marbled fill and, before long, came across three large cord-marked pots in the centre of the rectangle. These, in turn, lay on top of a pyramid of clay cylinders, some of which were covered in leaf impressions. Things were getting exciting. Down we went, over a metre (3ft), until suddenly the grave-fill turned blood red. It was red ochre, and some of it covered a human skull. I was delighted to lose my bet.
Drawing and photography completed, we removed the pots and cylinders, and began to reveal the complete skeleton. The upper body was covered in shell beads – some small discs, others large and shaped like an 'I'. Two horned-shell discs lay one on each shoulder, a shell bangle was on the left wrist, and shell discs were beside the skull. The shell had to be exotic, from a coral sea hundreds of miles to the south. There were also highly decorated and burnished pottery vessels. Most intriguingly, beside the right ankle we found a shell containing two white burnishing stones, with shiny facets where they had been used to polish pottery vessels before firing, together with a potter's anvil for shaping the clay.
Just as we finished exposing the skeleton, Director-General of the Thai Fine Arts Department paid us a visit, together with a large contingent from the press and television channels. We invited him to unveil the burial, and I found myself being interviewed about it in Thai for the evening news. Next came another surprise. Another grave, just 2m (6ft) away and large enough for an adult, was found to contain an infant aged about 18 months at death. This tiny individual had also been covered in red ochre, was accompanied by a shell bangle, thousands of shell beads, and beside the right ankle lay a miniature clay anvil.
Prehistoric 'It Girl'
In due course, we carefully lifted both skeletons. The shell beads continued in profusion on their backs. Ultimately, we counted over 120,000 disc beads that had been stitched onto at least two, possibly three, garments of a woman who died probably in her 30s. She would literally have dazzled in reflected sunlight when she walked across Khok Phanom Di 3,600 years ago.
It may come as a surprise to learn that this woman lived in a community of coastal hunter-gatherers who inhabited the mangrove fringe of the Bang Pakong River. Only the bones of a domestic dog were found in the layers associated with this grave. When you consider the time and skill needed to fashion 120,000 beads, trying to pin down why she had such a weight of exotic ornaments is an intriguing task. We later learned that she had very strongly developed wrist muscles. This, together with the clay cylinders, forms for making pots, and her anvil and burnishing stones, surely show that she was a specialist potter. Only women at this site were interred with such anvils. There are further hints from the infant lying next door. I imagine that this grave contained her daughter, already at less than two years old sitting beside her mother with her tiny little anvil, shaping her miniature pots. The pots found with both were masterpieces, burnished bright and bearing complex incised designs. The Princess reigned supreme as a potter in a specialist community of hunter-gatherer potters, and her export wares, I suggest, were exchanged for the precious and exotic ornaments. But what of the men in this community? Right next to the Princess, we found the narrow grave of a headless man. The mystery deepens. And in the same mortuary phase we found a man who wore a massive turtle carapace breastplate, shell discs, and over 45,000 shell beads. The moral? Never underestimate the complexity of hunters and gatherers.
---
This article is an extract from the full article published in World Archaeology Issue 53. Click here to subscribe