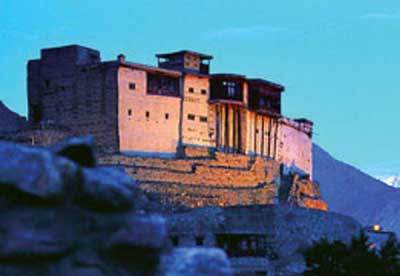 UNESCO has just announced that Pakistan's majestic Baltit Fort (shown below) has won their Asia-Pacific Heritage Award.
The 700 year old fort sits in the Hunza Valley of Karimabad, deep in the stunning mountainous beauty of northern Pakistan. It was granted the Heritage Award thanks to an excellent conservation programme undertaken there by The Aga Khan Trust for Culture's Historic Cities Support Programme, which UNESCO felt serves as a model for the revitalization of historic structures.
In this project, the wood and masonry fort was carefully repaired using a combination of traditional local knowledge and state-of-the-art conservation techniques.
The programme had positive repercussions for the local economy since it fostered the local revival of traditional building trades, while an associated handicrafts project provided improved livelihood opportunities in the area. Furthermore, since the Baltit Fort has now been turned into a cultural centre and museum, it is attracting thousands of visitors to the province.
This in turn, says UNESCO, has contributed to reinvigorating the local community's pride in their heritage.
Photos courtesy of the Aga Khan Foundation / Jean-Luc Ray.
---
This article is an extract from the full article published in World Archaeology Issue 8. Click here to subscribe