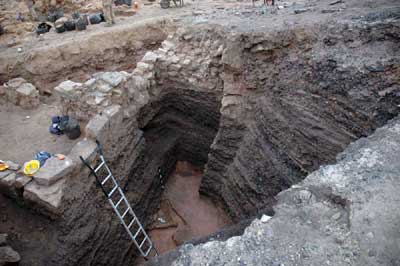 The story of 'King Solomon's mines' is entirely fictional, the creation of Sir Henry Haggard in his 1885 novel of the same name, but fact and fiction might coincide according to archaeologists who have excavated an ancient copper-production centre at Khirbat en-Nahas and found that it dates to precisely the period of the biblical rulers, King David and his son King Solomon.
Thomas Levy of University of California San Diego and Mohammad Najjar of Jordan's Friends of Archaeology led an international team of archaeologists that has excavated industrial smelting debris up to 20 feet thick at Khirbat en-Nahas (the name means 'ruins of copper' in Arabic) in Jordan's Faynan district, south of the Dead Sea, in the Biblical kingdom of Edom.
The settlement at Khirbat en-Nahas comprises some 100 ancient buildings and is situated in the midst of a large area covered by more than 24 acres of black slag, and associated waste tips. The size and depth of the waste indicates industrial-scale copper mining and smelting at Khirbat en-Nahas over a considerable period of time, from 1200 to 500 BC, but with a 'spike in metallurgic activity at the site during the 10th and 9th centuries BC'. Radiocarbon dates supporting this conclusion have been obtained from date seeds and from the tamarisk and other woods that were used for charcoal in smelting, in work carried out by Thomas Higham of the University of Oxford.
Reporting on the team's work in the Proceedings of the National Academy of Sciences, Thomas Levy writes: 'along with the first large-scale stratified and systematic excavation of a site in the southern Levant to focus specifically on the role of metallurgy in Edom, we have evidence that complex societies were indeed active in 10th and 9th centuries BC and that brings us back to the debate about the historicity of the Hebrew Bible narratives related to this key period in the histories of ancient Israel and Edom.' Future research at Khirbat en-Nahas, Levy says, will focus on who actually controlled the copper industry there – Kings David and Solomon or regional Edomite leaders. •
---
This article is an extract from the full article published in World Archaeology Issue 33. Click here to subscribe