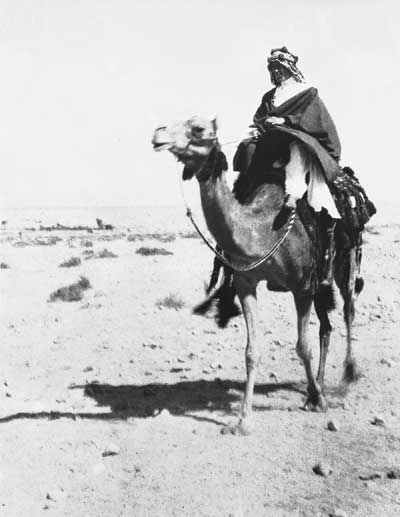 It is 70 years since TE Lawrence mounted his motorbike for the last time, drove along an idyllic Oxfordshire road, clipped the bicycle of a courier boy, swerved, and fatally crashed. To mark the anniversary of his death, the Imperial War Museum is hosting a new exhibition: Lawrence of Arabia: the life, the legend.
This is a fitting title since Lawrence is certainly a legend; an icon of the 20th century. Likewise, legends encircle his life – both cinematic inventions, and accusations that Lawrence himself had invented or skewed events from his life. Thus the new exhibition aims to address the legend and the legends, and to tell the life story of Lawrence. This it achieves, and in considerable detail, showcasing a wealth of objects belonging to, or associated with, Lawrence – from boyhood right through to his last ride on his Brough Superior SS100.
The story of Ned
Lawrence was born into complexity and enigma. Thomas Edward Lawrence, or Ned as he was known as a boy, was the second of five illegitimate sons of an Anglo-Irish landowner, Thomas Robert Tighe Chapman. His mother had been governess to Chapman's four legitimate daughters. But after the birth of their first child was discovered, the couple fled from Ireland. Under the alias of Mr and Mrs T R Lawrence, they went first to Wales, where Lawrence was born in 1888, finally settling in Oxford in 1898. Deeply religious, and conscious of their guilt, his parents founded a church and tried to create a normal middle-class life. Lawrence later claimed that he knew of his parents' secret from the age of 10. The stigma of illegitimacy was to trouble him all his life. His upbringing, shot with secrets and lies, might help to explain why he was later drawn to undercover military operations; why he may have inaccurately slanted key stories in his life; and ultimately why he came to despise his fame, desperately trying to escape the limelight.
The Archaeologist
It is with respect to the undercover military operations that Lawrence's link with archaeology comes to the fore. Early in 1914, he took part in an expedition to Sinai to give archaeological cover to a secret military survey in Turkish-held territory. He had been associated with archaeology from his university days, when he entered Jesus College, Oxford, to read history in 1907. In the summer of his final year he undertook an 1100-mile walking tour in Syria and Palestine, sketching and taking photographs of over 30 castles. It was Ned's thesis on the influence of the Crusades on European military architecture that was to help him gain a First.
After university, he joined an archaeological dig at Carchemish in Syria, where he worked from 1911-14 as archaeologist, photographer, and organiser of the local workforce. (And it was there that he met the young Arab, Dahoum, to whom it is thought he dedicated his war memoir Seven Pillars of Wisdom.)
In addition to becoming fluent in Arabic, Lawrence developed a deep sympathy for the Arabs who had lived for centuries under Turkish rule. The comprehensive exhibition has on display a number of objects related to Lawrence's archaeological exploits, notably some of the young Lawrence's archaeological sketches and finds.
However, the exhibition is weighted most heavily towards Lawrence's political work, notably his involvement in the Arab Revolt against the Turks. Lawrence's overriding aim was to produce a military success for the Arabs that would help to win them a claim to self-government. This was to be the subject of his book, Seven Pillars of Wisdom. A number of drafts of his book are on display. However, Lawrence's first draft was stolen while he changed trains in Reading in 1919 and though he worked on new versions until 1926, he was never satisfied with them, and continually pressed various eminent writers to give their feedback and reassurance (text drafts and various correspondences can all be found at the exhibition). Seven Pillars was not published for general circulation until after his death, since when it has been almost continuously in print.
The Legend
Lawrence's exploits became known to a wider public through Lowell Thomas' 'illustrated travelogue' – a lantern-slide show that drew huge audiences in Britain and abroad. After its launch in 1919, Lowell's travelogue soon turned Lawrence – whom he dubbed Lawrence of Arabia – into a celebrity. Initially, Lawrence welcomed his new fame as a method of publicising the Arab cause and attacking government policy through letters and articles in quality and mass-market newspapers. But later, he came to loathe the limelight, changed his name, and attempted to slip into obscurity.
Lawrence of Arabia hated the idea that he might become a cinematic subject after his death, yet in 1962, David Lean premiered his blockbuster film, starring Peter O'Toole. To those who knew Lawrence, this seemed yet another distortion of the truth, simply adding more untruths to the 1955 biography by Richard Aldington who had denounced his wartime record. Since then, previously secret British archives released in the 1960s and 70s have provided additional evidence, and serious scholarship has substantiated much of Lawrence's wartime account. More recently, his Seven Pillars, has become required reading for those involved in the current war in the Middle East.
From his birth to his death on 13 May 1935, the exhibition covers much of the enigmatic life of the legend. Key items on show include his peace map, recently uncovered in The National Archives at Kew, which illustrates the proposals Lawrence made to the Eastern Committee of the War Cabinet in November 1918. His suggested frontiers would have replaced those drawn up in the allied agreement of 1916 negotiated by Sir Mark Sykes and François Georges-Picot. Lawrence based his borders on the views of men from across the Middle East that he had heard during the Arab Revolt, and had been in close contact with such British experts as Gilbert Clayton. Lawrence suggested separate governments for the predominantly Kurdish and Arab areas in what is now Iraq, and for the Mesopotamian Arabs and the Armenians in Syria. These proposals were opposed by the British administration in Mesopotamia – but might the course of modern history have gone far more smoothly had Lawrence's proposals been implemented? Then, readers are urged to pause awhile at the tiny pocket diary from the time of Lawrence's claimed brutal rape by Turkish captors – the relevant pages having been ominously ripped out – even though subsequent tests have shown that nothing was written upon these pages. Other previously unseen items include the Arab Revolt flag raised at the Capture of Akaba in July 1917, which has been lent to the Museum by King Abdullah II of Jordan.
In total, the exhibition provides a comprehensive insight to the man, his legacy, and to the continued relevance of his work.
---
This article is an extract from the full article published in World Archaeology Issue 14. Click here to subscribe