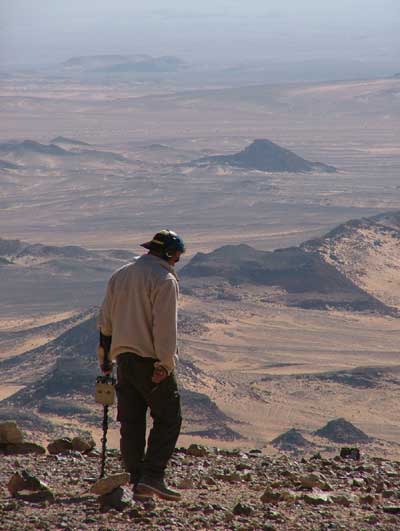 The Great Arab Revolt Project (GARP) is exploring the archaeology of Lawrence of Arabia in Jordan.
David Thorpe is the Excavation Director and here he writes of the first stage of their intrepid excavations.
This November we completed Phase 1 of our excavations. Ninety years previously, Prince Feisal, Auda Abu Tayyi, T E Lawrence et al. reclaimed southern Jordan from the Ottoman Turkish Army of Occupation. It was an occupation that had lasted for nearly 500 days, and we were about to try to identify their battle sites and excavate them.
The archaeology was special: kilometres of World War One Turkish trenches (amazingly well preserved); plentiful small finds – from Austrian bullet cases to Turkish uniform buttons, and shrapnel; plus extant fortress structures, a Turkish army encampment, hastily fortified railway stations and mountainous positions previously unidentified. All these gave us an entirely new perspective on the Arab campaign of 1918.
We used the latest non-invasive techniques to establish the first ever 'spread pattern' for ammunition used in a conflict situation in WW1 in the Middle East. These techniques allowed us to verify (or not) Lawrence's account in his Seven Pillars of Wisdom. The culmination of the Revolt was the foundation of the 20th century Western Asiatic world, with all its implications for the Middle East today. This was ground-breaking archaeology indeed! All of this was set against the background of stunning desert scenery, sunrises over Petra and a team of nearly 30 Brits building personal relationships with the locals. Add to that the wealth of oral history interviews conducted by Nick, our joint director, the delicious Arab food and yet again, the beauty of the locations and you get a flavour of GARP's first season. This was the Archaeology of Conflict in Jordan 2006 – roll on the 2007 season.
---
This article is an extract from the full article published in World Archaeology Issue 22. Click here to subscribe