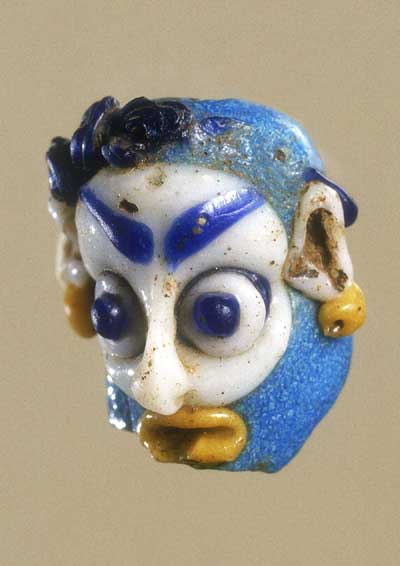 A new exhibition at the Bible Lands Museum in Jerusalem features over a hundred exquisite examples of intricate, finely detailed ancient glass from Mesopotamia, Egypt, Phoenicia, Greece and Rome.
The exhibition, entitled Treasures of Ancient Glass, includes decorative, household and personal objects, and traces the development of glassmaking in the Ancient Near East and the Classical world. Utilizing state of the art fibre optic technology, these tiny but vivid artefacts give the impression of bright stars in the darkened gallery.
The items have never been seen in public before, and all come from the private collection of Batya and Elie Borowski. Of particular interest are the Phoenician items from the 7th century BC. At that time, skilled artisans specialised in making pendants shaped into various forms including human and demon heads, ram's heads, birds and clusters of grapes. A number of outstanding examples of this type are on display in this exhibition.
Though the Egyptians did not begin to produce glass until after 1500 BC, they produced complex mosaic patterned vessels.
Only pharaohs, priests and nobles owned glass jewellery and adorned their tables with colourful glass vessels. Among the most elaborate objects on display in the exhibition is an Egyptian colourful plaque decorated with a Wedjat eye from the 1st century BC – 1st century AD. Also of note are the glass-blown items, a technology perfected by the Jews of Jerusalem during the 1st century BC and still employed until recent times.
For more information see the Bible Lands Museum website: www.blmj.org. With thanks to Riki Morginstin
---
This article is an extract from the full article published in World Archaeology Issue 18. Click here to subscribe