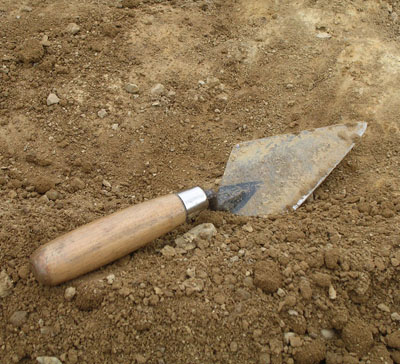 A team of UK-based researchers have been working in India's Andhra Pradesh region in search of more recent industrial archaeology. The team, led by Dr Gill Juleff of the University of Exeter's Department of Archaeology, forms one half of a five-year project with the National Institute of Advanced Studies (NIAS), in Bangalore, exploring and recording archaeological sites where iron and steel were produced over the last two millennia.
Over a period of six weeks in January and February 2010, the team recorded over 120 such pioneering metallurgy sites, seeking the origins of high-carbon steel-making in the southern Indian sub-continent. Their work has been concentrated in the region around the small town of Dharmapuri, on the banks of the Godavari river, and the arid landscape of Northern Telangana, a region now fighting for independent statehood within India. This area is renowned for the specialised production of crucible steel, sometimes called 'wootz steel', which was exported and traded throughout ancient Europe and the Arab world, where it became the favoured material for edge weapons, such as Damascus swords, renowned for their sharpness and durability.
Dr Gill Juleff said: 'Our aim is to try to unravel the chronological origins of iron smelting in the region and its technological development. To do this we are examining and recording sites where iron has been smelted from local ores. This means visiting rural villages and exploring forest areas to identify heaps of slag waste left by these processes'. The team has also interviewed traditional blacksmiths and the descendants of the last smelters of the region to record their memories.
---
This article is an extract from the full article published in World Archaeology Issue 41. Click here to subscribe