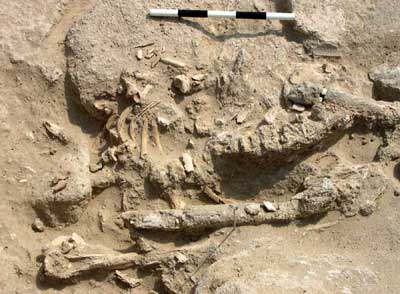 Being detained for close scrutiny at Abu Dhabi Police Headquarters is the fate that has befallen a rather unusual suspect: the oldest person known in the United Arab Emirates. Or to be specific, the oldest skeleton ever found there.
The body was found during excavations directed by Dr Mark Beech for Abu Dhabi Islands Archaeological Survey (ADIAS) early in 2004 on Abu Dhabi's western island of Marawah. Beech and his team found the skeleton buried on a stone platform in one of a series of stone buildings at the Neolithic site of MR11.
However, the skeleton was poorly preserved, and little was known about the skeleton; even its gender remained a mystery. This is no longer the case thanks to a programme of investigation that included DNA analysis carried out by the Forensic Science Laboratory at Abu Dhabi Police Headquarters and archaeologists from ADIAS.
Among parts of the skeleton that were preserved were several teeth, and three of these were examined by Col. Ahmad Hassan Al-Awadi, Director of the Forensic Science Laboratory and his colleagues at the Forensic Pathology Unit. Though the ancient DNA was not well preserved, using the latest forensic science techniques the Forensic Laboratory was able to determine that the skeleton was male. And preliminary studies suggest that he was aged between about 20-40 years.
Meanwhile, radiocarbon dating, as well as associated finds, demonstrates that the skeleton dates to around 7500 years ago. This makes him, and the building in which he was found, the earliest evidence of a human presence yet found in the Emirates. Mark Beech told CWA: 'We are extremely excited to have discovered the region's oldest human. This body is some 500 years or so earlier than any other known skeleton from the UAE, and its presence is thus helping to rewrite the history of the region. On a micro level, we hope that further research might tell us more about this man – elucidate the state of his health, perhaps something of his diet, and maybe even his cause of death.'
Further research on the skeleton is being continued by the Abu Dhabi Police forensic scientists, while ADIAS is now starting up a new season of archaeological investigations at the site.
---
This article is an extract from the full article published in World Archaeology Issue 10. Click here to subscribe