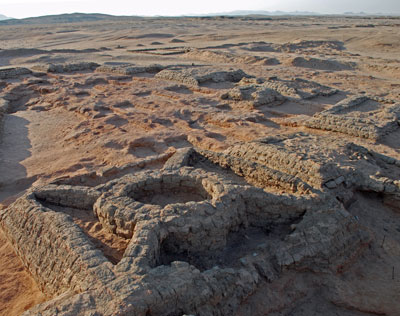 Ongoing excavations at Sedeinga, a 2,000-year-old necropolis in northern Sudan, have uncovered the remains of at least 35 densely-clustered pyramid burials – and an inscription asking the gods to 'take care of Granny'.
Identified by the French Archaeological Mission, the pyramids were built as part of a burial ground probably containing several hundred monuments, during the Kushite kingdom of Meroe, who shared a border with ancient Egypt. Pottery and artefacts recovered from some of the graves suggest that most of the structures developed between the 1st century BC and the 2nd-3rd centuries AD, while the first monuments might have appeared around the 5th century BC.
'The largest pyramid so far measures 7m (22ft)in diameter, while the smallest, a child's grave, is just 0.8m (2.5ft) across,' Excavation Director Vincent Francigny told CWA. 'They vary in size to fill all available space around the monuments of ancestors, and ranged in height from around 3ft (1m) to more than 33ft (10m).'
Although most of the burials have been robbed, some reveal that their occupants were laid to rest in shrouds, wooden coffins or on funerary beds, accompanied by a diverse range of grave goods.
'The few unplundered adult burials are astonishing,' Vincent said. 'The skeletons wear jewellery around their neck, wrists, and ankles, and are accompanied by artefacts including decorated ceramics, bronze bowls, kohl pots in wood or ivory, wooden caskets, and weapons.'
Among the inscriptions found in the remains of the pyramids and their chapels, the team discovered a funerary stela with a prayer written in the Meroitic language. The text invokes Egyptian gods to look after 'Aba-la', thought to be an affectionate nickname for 'Grandmother'.
It reads: 'Oh Isis! Oh Osiris! It is Aba-la. Make her drink plentiful water, make her eat plentiful bread, make her be served a good meal.'
'There are strong links between Kushite culture and Egyptian beliefs,' Vincent said. 'Sedeinga's pyramids belong to this heritage, reactivating in Nubia a funerary monument that had been abandoned long ago in Egypt.'
While the pyramids' external appearance points to Egyptian influence, however, many of the monuments have an unusual internal circular structure, with only one example known from outside the site.
'We thought that this could symbolise the solar disc, but it could also be an innovation, merging the layout of an Egyptian pyramid with that of the local sub-Saharan tumulus,' said Vincent.
---
This article is an extract from the full article published in World Archaeology Issue 58. Click here to subscribe