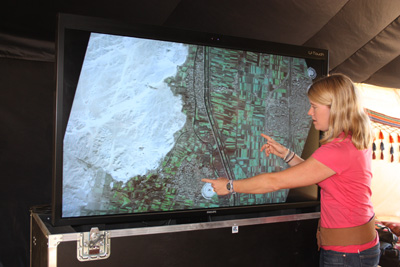 Archaeologist Sarah Parcak, who teaches at the University of Alabama at Birmingham, admits to being astonished by her own achievement: 'I couldn't believe we could locate so many sites all over Egypt,' she told the BBC recently, 'using the new technique of infra-red satellite imaging.' No less than 17 lost pyramids, more than 1,000 tombs, and some 3,000 hitherto unknown ancient settlements have been mapped by Dr Parcak and her team by analysing images taken by satellites orbiting 400 miles above the earth. 'It just shows us,' Dr Parcak adds, 'how easy it is to underestimate both the size and scale of past human settlements.'
Infra-red imaging is able to distinguish between materials of different density, and can thus be used to detect the subtle differences between the mud brick used by ancient Egyptians for building their houses and tombs from the surrounding sand. The technique is also capable of tracing structures buried deep in the sand or silt and is so powerful, Dr Parcak says, 'that it can even be used to monitor sites for looting'.
The subject of a documentary on Egypt's Lost Cities, broadcast by the BBC in May 2011, Dr Parcak says that 'this is just the beginning of this kind of work', and that 'Indiana Jones is old school; satellites are the future'.
---
This article is an extract from the full article published in World Archaeology Issue 48. Click here to subscribe