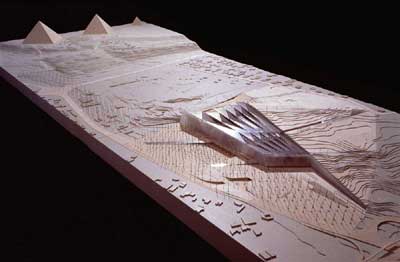 Egypt is to have a major new museum. A £200 million Grand Egyptian Museum (GEM) will be located at the first desert plateau outside Cairo, between the great Pyramids of Giza and Cairo, and will house over 150,000 artefacts. Work will begin in about eighteen months.
It is set to become the largest museum of Egyptian artefacts in the world, and among the world's largest museums. Alongside the museums own collection, it will display computerised virtual images of Egyptian artefacts from collections held all over the world. GEM will be designed to maximise access – physical, intellectual and cultural – to the Museum's collections, exhibitions, programmes, skills and expertise. In addition to a fabulous collection, the museum will also host a myriad of activities devoted to Egyptology: the architects have drawn up plans of a conference facility, library and multimedia facilities.
The museum is to be designed by Dublin-based heneghan.peng.architects, who won the international architectural competition to design it. An open architectural competition, it attracted 1557 designs from 83 countries, making it possibly the largest global architectural competition in history.
'We were awe-struck by the almost indescribable strength, presence and sheer power of the Pyramids', say the architects of their first visit to the site. They wanted to design a museum that would sit neatly between the modernity of Cairo and the antiquity of the Pyramids. Their winning design is a striking building, structured by fractal geometry, and to be made of translucent stone. The architects feel that it will form a new edge to the timeless face of the desert plateau.
With thanks to Tanya Ross and Mark Mallin of Buro Happold, the consulting engineering company that is part of the project team.
---
This article is an extract from the full article published in World Archaeology Issue 3. Click here to subscribe