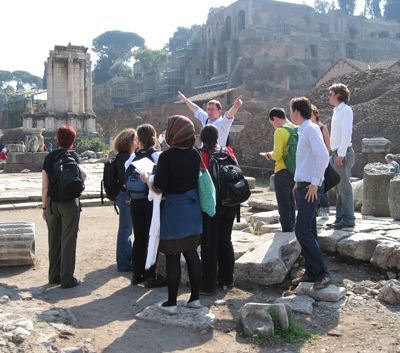 Every time I arrive at the British School at Rome, it is somehow different. Old buildings and strong institutions can be like that; they hold up a mirror to us so that whilst they persist, we see our own changes more clearly. The first time I visited I was at Oxford, writing my doctoral thesis on early Rome, and the BSR was something of a legend to me. Susan and I arrived this time in late September 2009, in fits and starts, from St Andrews, where I have been for 17 happy years, to take up the responsibility of leading this extraordinary research centre. It is a humbling moment, and the warmth of welcome for us is truly moving. But the work starts straight away with a conference on Julius Caesar in Cividale del Friuli. This beautiful little town on the Croatian border was a municipium under Julius Caesar, and then an important Lombard centre. The event was arranged and sponsored by the excellent Fondazione Canussio.
Immediately on my return, we host a major event to celebrate the latest stage of the Portus campaign. The British Ambassador to Italy, and representatives of Southampton University, the Arts and Humanities Research Council and the British Academy join Italian academics to listen to Simon Keay's presentation of this extraordinary site. The project seems to me to exemplify exactly what the British School is all about; work of the highest quality conducted in genuine collaboration between local authorities and British institutions and funding bodies.
The following day we visit Portus itself. The press coverage is terrific, and it is a great time for the new intake of award holders to join us. These researchers, with interests ranging from Republican and Imperial Roman architecture, Renaissance cardinals, the Neapolitan Enlightenment, and modern urban regeneration, have won bursaries to study at the BSR. The school was established not only for archaeologists but also for architects, abstract and figurative artists, and those who work with film and sculpture, bringing together an eclectic mix of skills and interests to the mutual benefit of all. This is, truly, a unique place.
Openings
Rome is as busy as it is welcoming. With over 30 foreign institutes for art, history, or both, plus the embassies (of which we, as a Commonwealth institution, have rather a lot – I am steadily working my way through them), and all of Rome's own institutions, there are always places to be and people to meet.
Our own opening events demonstrate the sheer vitality and diversity of the BSR. Early in 2010, we run a book presentation for Simon Stoddart and Caroline Malone's magnificent publication Mortuary Customs In Prehistoric Malta: Excavations At The Brochtorff Circle At Xaghra (1987-94), along with the exhibition catalogue Le Orme dei Giganti, on megalithic architecture. Seeing the venue filled with prehistorians is a welcome sight to me. Simon and Caroline's work on the site at Xaghra is fascinating. Dating back to 3000 BC, this important underground burial area contained over 200,000 body parts and preserved exciting indications of ritual and secondary deposition of the dead – there is a good article in CWA 7.Thinking about this and the megalithic architecture discussed by Sebastiano Tusa and others inevitably brings Barry Cunliffe's work on an Atlantic culture to mind. It was a pleasure to see him receive his award from readers of CWA.
---
This article is an extract from the full article published in World Archaeology Issue 42. Click here to subscribe