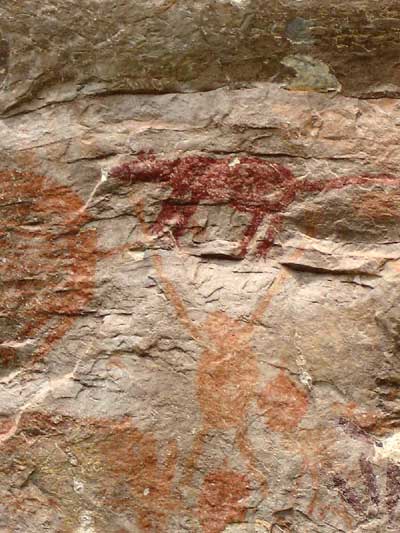 Rock-art specialist Dr George Nash reports on his travels to Malaysia where he was involved in an engaging fieldschool.
What do rock-art, the monsoon rains and travelling have in common? Answer: the recent rock-art fieldschool in Kuala Lumpur, Malaysia. This internationally-organised fieldschool, held in November 2008, brought together four world renowned rock-art specialists to talk about the recording, interpretation and protection of this extremely finite archaeological resource.
Reaching Malaysia from the UK was long and arduous, but following a four hour stop-over in the shopping capital of the world, Dubai, we eventually arrived at Kuala Lumpur, a city dwarfed by the many skyscrapers, including the Petronas Twin Towers standing at 452m, and with a rich but, in places, patchy historic built heritage; a reminder of the British Colonial past.
The fieldschool commences
The fieldschool was organised by Trent & Peak Archaeology, the University of Nottingham and the Centre for Archaeological Research Malaysia, Universiti Sains Malaysia (USM). We had attracted students from far and wide, including a number of professionals employed in the heritage world. The venue for the lectures was Nottingham University's Malaysia Campus KL offices – a safe haven from the heavy monsoonal showers that marked our stay.
The lectures, organised as a series of themed blocks, transported students all over the rock-art world with specialised presentations by course leader Prof. Paul Taçon who talked about the rock-art, and also the spread of modern humans, in Australia, China and South Africa.
The host, Prof. Mohd Mokhtar Saidin, presented his research on the prehistoric rock-art of Malaysia, noting that new dating from one cave site may reveal Malaysia's first Palaeolithic art. Anthropologist, Dr Sally May, whose work focusses on Arnhem Land in the Northern Territory region of Australia, concentrated on the management and heritage value of rock art sites. Sally argued that the importance of forming dialogue and relationships between researches and indigenous peoples. I had the pleasure of presenting my research into Neolithic megalithic art in North Wales, hunting art from northern Scandinavia and Medieval art from Indonesia. Finally, fieldschool organiser Barry Lewis gave a short lecture on laser scanning, a recent innovation that will shortly be used at the Malaysian cave site of Gua Tambun.
To engage our students further, each of the course convenors used a variety of approaches to discuss and illustrate the rock art, its execution and development – including archaeological theory, anthropology and philosophy. Each lecture block was supported by open debate, a series of student exercises and topical films. Happily, the feedback from the students was very positive – possibly aided by the good Oriental food, and the after-lecture beer!
---
This article is an extract from the full article published in World Archaeology Issue 33. Click here to subscribe