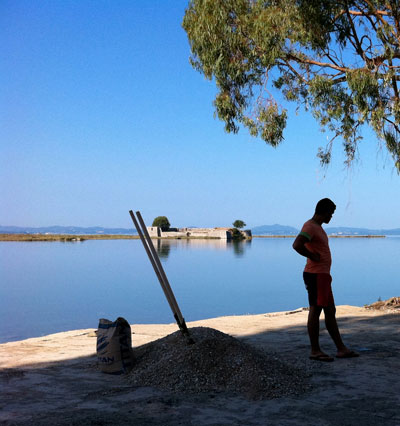 How on earth do you get the students up at 5am? That, rather than the archaeology, is the question that preoccupies my colleagues at the American University of Rome when I mention the Butrint Field School in Albania.
Students are not generally known for their eagerness to rise at the crack of dawn and those professors unfortunate enough to teach first session know their carefully crafted interactive lessons will be wasted on bleary-eyed late-comers and students who are present more in body than in mind. Yet here, I can truthfully say, early mornings have never been a problem.
Perhaps it is the location: Butrint sits in a lagoon on the Straits of Corfu, surrounded by the idyllic blue waters that link Lake Butrint with the Ionian Sea, basking in the glorious warmth of the Mediterranean sun. All around is the unspoilt countryside, protected from modern development since its designation as a World Heritage Site.
Perhaps it is the archaeology: close to the Albanian border with Greece, and just a short boat-ride from Corfu, this enchanting corner of the world has been continuously occupied since prehistoric times. Ideally situated to take advantage of sea-faring trade, Butrint prospered as a Greek colony, a Roman city, a Byzantine port and, briefly, a Venetian outpost, before it was finally abandoned in the Middle Ages.
Class act
Excavation of the site and the adjacent Vrina Plain began in 1994. The field school was set up six years later. For the last three years, the American University of Rome (AUR) has collaborated with the Institute for Albanian Archaeology and the Albanian Heritage Foundation in the training excavation at the Butrint Field School.
From the beginning, though, it was clear that the ultimate objective had to be the development of Albanian archaeology, for Albania and under the direction of Albanians. So it is that Albanian archaeology students who worked at Butrint and
who, funded by scholarships from the Packard Humanities Institute, studied at the University of East Anglia in the UK, are now returning to run the Butrint Training School to teach a new generation of Albanian undergraduates – only this time alongside AUR students.
Last year, following extensive geophysical survey, a large Roman villa was uncovered on the Vrina Plain. Built in the late 1st century AD and abandoned in the 6th century, it is one of only two sites found in Albania to show evidence of wine-making.
The area just north of the villa was later used as a funerary complex and has a large mausoleum. Facing it is another substantial foundation which may ultimately prove to belong to the funerary complex, although its precise purpose is not yet clear – and high-status finds dating to the Medieval period suggest that there may yet be a later phase to be discovered. But excavation is just part of the project.
Conservation and collaboration
The Conservation Field School works on the standing monuments on the main site. Butrint gains much of its charm from its wooded setting but this is also its greatest conservation challenge: vegetation causes extensive damage if it is not correctly managed.
When we first set up this collaboration in 2008, I was, naturally, very focused on the practical aspects of the field school: recording methods, types of equipment. Important though such matters are, I now look back on those three years and see that the most significant and long-lasting lesson our students learned has little to do with the technical aspects: it has been to work as a team in a different culture and with different codes of behaviour. This is a group that regards not getting up in time to work as shameful rather than cool. There are no sanctions for missing the Land Rover to the site in the morning, but you have to endure 'the walk of shame'. As one of our students said last summer, 'I never felt like a student here, I felt like a worker, one of the team, and that I was important to the project.'
Archaeology is vital to this area, and not simply as a source of revenue: Butrint is a UNESCO World Heritage Site and a major tourist attraction, drawing visitors not only from Albania, but also from Corfu, on the boats and hydrofoils that regularly come into the nearby port of Saranda, as well as from mainland Greece, a 30-minute drive away.
But tourism is not the driving force for Albania's current uptake in archaeology: in a recent poll, nearly 70% of the students at the field school said they saw it as a means to establishing their Albanian identity and for understanding their country as it is today. Many also felt that, given the negative image of Albania abroad, its heritage was an important factor in restoring international prestige.
In mentioning identity as one of their concerns, these young Albanians are surely reflecting one of the great global preoccupations of our era. The quest for identity must involve looking to the past. There can be few places where history and contemporary identity are more complicated or intertwined than the Balkans: many students on the field school regard themselves as ethnically Albanian even though they did not live in Albania. The identification of contemporary Albania with ancient Illyria has been a mainstay of Albanian identity for generations; this is no abstract, academic argument, but a crucial part of their living reality.
In 2008 the World Archaeological Congress called for greater equity in international field schools between visiting students and local organisations. Recognising that in the past much of archaeology had been (knowingly or not) a colonial exercise, this is an attempt to put future work on a more ethically sound basis. Whether this will be more than a vain hope remains to be seen, but there are very good reasons for making archaeological training schools collaborative partnerships.
Foreign field schools that operate as an autonomous group without local collaboration tend to transport their campus culture with them. Such an experience does little to enhance the knowledge of the people or the country, and does not challenge any negative preconceptions.
International collaboration is the most valuable aspect of the Butrint Field School. Learning to work with people who are different to you is a quality that employer organisations tell us is too often missing from today's graduates. The teamwork and collaboration that are at the core of archaeology should be recognised as valuable employment skills with relevance far beyond archaeology. Field schools can, and should, be about so much more than learning to dig.
---
This article is an extract from the full article published in World Archaeology Issue 52. Click here to subscribe