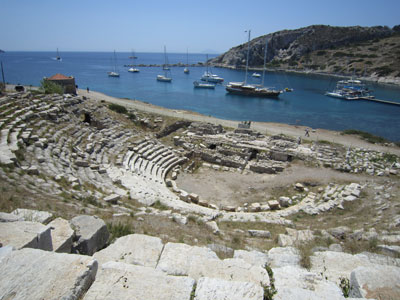 I have returned to Knidos after 40 years. Across the decades you forget the outlines of the trenches and the stratigraphic relationships these contained. Instead, Knidos remains etched in my memory as a panorama encompassing the suggestive silhouettes of many of the Dodecanese islands, as well as the brilliant crystalline blue expanse of the Aegean. The ancient city lies at the tip of a long mountainous finger of land pointing out into this sea; it is as unexpected as it is magical. Today, as four decades ago, because the twisting road along the corniche is so narrow and perilous, most visitors arrive by yacht, anchoring in the Hellenistic commercial harbour just past the ancient moles. Modern Knidos amounts to very little. Rusan's restaurant remains at the terminus of the makeshift jetty; Mehmet's café remains too, though it is no longer a shack. There is a jandarma for the military and a modest store for the excavation finds. This gaggle of buildings is dwarfed by the scale of the sprawling Hellenistic and Byzantine city. The ancient city rises up like a theatre on countless terraces, occupying the last 3km of the peninsula as well as the adjoining islet of Cape Crio, where a Victorian lighthouse marks the farthest tip of this lost metropolis.
I was unbelievably lucky to get the opportunity to dig at Knidos as a first-year undergraduate. The overture to the excavation set the scene for this long summer: the train from London to Rome; my first visit to the British School at Rome; the long drive by Landrover past Monte Cassino to Brindisi; an overnight Adriatic sea ferry to Igoumenitsa; the tortuous mountain road past Metsovo to Salonika; the plains of Thrace; crossing the Dardanelles at night to sleep at Troy; procuring the excavation equipment in the Izmir bazaar; and then the momentous drive in a Willys Jeep to Knidos, tracing the coast-
line along mule tracks and culminating, after a week of travelling, with the sun setting in a blaze of fire over Cape Crio. As with all digs, there was a galaxy of unlikely personalities, assembled by the celebrated American director of the project – characters who, in retrospect, educated me in this improbable finishing school on life as well as Classical archaeology. Today I remember them with gratitude: I was the youngest of a field team numbering around 25, and apart from the pot-washing boys, much younger than the legion of upwards of 100 men hired from the neighbouring villages. We slept in tents on the narrow beach in the lea of Cape Crio, and ate and worked in a modest dig-house close by. There was one electrical light, a makeshift shower from a single pipe of water, and a 'loo with a view' that attracted a menacing multitude of flies. This was full immersion in an archaeological odyssey.
---
This article is an extract from the full article published in World Archaeology Issue 49. Click here to subscribe