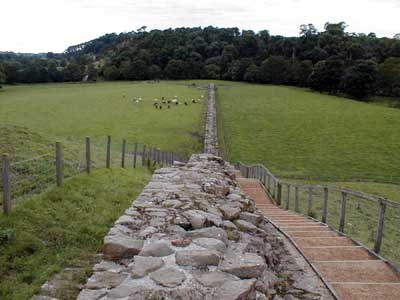 A three-year project, to investigate the effects of so-called 'climate change' and pollution on Europe's historic built environment over the next 100 years, has been launched in Bologna, Italy. Entitled the 'Noah's Ark' project, and using some 1,200,000 Euros of European Commission funding, it draws together a mass of environmental data and uses experts from 10 European countries including the UK, Italy, Sweden, Poland, the Czech Republic, Spain and Norway.
Structures considered to be under threat include Hadrian's Wall, the Charles Bridge in Prague, Cologne Cathedral and the Temples of Agrigento in Sicily.
Experts, such as Peter Brimblecombe of the University of East Anglia, fear that factors including wind-driven rain and sand, plus radiation from the sun may start to impact on historic buildings in unpredictable ways.
As Professor Brimblecombe says: 'Changes in the composition of the atmosphere, for example more ozone, will impact on the fundamental chemical processes causing damage to building materials'. And that 'an increase in wind speed may cause sea-salts to travel further inland and furthermore increase the impact of driving rain on buildings'.
The European test-sites each help to elucidate a range of potential climatic threats to historic structures. For example, the Charles Bridge in Prague has been chosen because the city is affected by very cold winters combined with hot summers.
However there may be some good news too. If, for example, there are fewer freeze-thaw cycles in the future, frost damage to building stones may be reduced.
The project will culminate in the drafting of a Vulnerability Atlas, which will pin-point the areas at greatest risk and show how specific buildings are likely to react to future climatic conditions.
However, since the study appears to be based on a somewhat apocalyptic 'Noah's Ark' view of climate change, how far will it be possible to rely on any of its conclusions?
---
This article is an extract from the full article published in World Archaeology Issue 7. Click here to subscribe