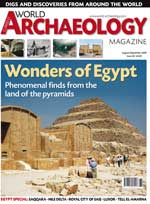 This issue is devoted to Egypt. Over the years, some of the greatest discoveries in this extraordinary land have been made by members of the Egypt Exploration Society (EES). Founded in 1882 by the redoubtable Amelia Edwards, they employed Flinders Petrie (1853-1942) as one of their first excavators, so launching one of the greatest figures in archaeology. But what have they been doing in more recent years?
As the current issue illustrates, some of their most remarkable discoveries have been at North Saqqara. There, in the shadow of the Pyramid of King Djoser (as shown on the front cover), they have found a cemetery dedicated not to mummified people but to mummified animals. At first it was thought that this area might mark the site of the tomb of Imhotep, the pyramid's architect. Instead, excavations revealed catacombs crammed with literally millions of animal mummies. The EES has been examining this conundrum. Thereafter, we journey across Egypt to offer more of the latest EES digs, discoveries and projects, including their crucial work in the Delta, notably at the royal city of Sais.  
Other highlights include a travelogue by Bob Partridge, the editor of Ancient Egypt magazine, who reflects on his experiences of visiting Egypt over the past 30 years. Finally, our thanks to Paul Nicholson for facilitating this issue; we urge all those fascinated by the discoveries in Egypt to join the EES to learn more.
FEATURES
THE EES
EGYPT EXPLORATION SOCIETY: Celebrating 125 years of discovery.

SAQQARA
The tombs of Tutankhamun's people: Seeking Saqqara's New Kingdom tombs.
NORTH SAQQARA
Cult, caches, and catacombs: The animal necropolis.
DELTA
Egypt's lost cities: The Delta Survey.
SAIS
The royal city of Sais: Revealing the Delta's secrets.

OXYRHYNCHUS
Reading history: The papyri of Oxyrhynchus.
Readers write
Robinson Crusoe; Roman latrines; oldest calendar; SOS Bulgaria; in praise of Africa.

World news
Latest on archaeological news, discoveries and scientific research.

Digging Deeper
News extra from Brian Fagan.

EGYPT: Editor of Ancient Egypt magazine, Bob Partridge, reflects how the country has changed over the 30 years he has been visiting.

ON SITES ONSIGHTS: On site at Luxor Temple.
LISTINGS: Exhibitions on Egypt from around the world; and an Egyptian themed photography competition .
REVIEWS
Exhibition The Carnarvon Exhibition at Highclere Castle.
Books Abydos: Egypt's First Pharaohs and the Cult of Osiris; The British Museum Dictionary of Ancient Egypt.

GREAT DISCOVERIES
Tell-el-Amarna   The city of Pharaoh Akhenaten explained.