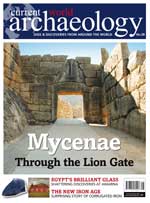 Golden Mycenae is one of the most famous ancient towns in the world, but how did it work?   In the first of a two part feature, David Mason takes us to Mycenae, walking along the little-known roads to see Mycenae as the Mycenaeans saw it, with the Treasury of Atreus carefully placed for maximum impact. Thereafter, in the subsequent instalment, Andrew Selkirk leads us up onto the citadel and wonders where the ordinary Myceneans lived.
We follow Mycenae with an ancient mystery: how did the Egyptians make glass? Paul Nicholson began exploring the evidence at Tell el-Amarna, the capital of the 'heretic pharaoh' Akhenaten (1352-1336 BC). Amarna was planned as a 'new town' by Akhenaten and abandoned soon after his death. Consequently, the site offers a rare and significant snapshot of urban Egyptian life and industry at that time.
Archaeology is the study of material culture, and very few materials — whether glass or gold – escape our attention. But what about the archaeology of modern materials such as plastic, rubber or corrugated iron? All are viable sources of study, as we demonstrate in our article exploring the history and uses of corrugated iron. If you thought corrugated iron simply the stuff of air-raid shelters or allotment sheds, then you might be surprised at the far-reaching and exotic history of this much maligned material.
Location, location, location
GREECE Unravelling the mystery of the location of the Treasury of Atreus – also known as the Tomb of Agamemnon – far from the other royal tombs at Mycenae
The Magic of Mycenae
GREECE In the second installment of this two-part special on Greece, Andrew Selkirk takes us on a visitors' tour of   Agamemnon's capital
Excavations and experiments at Tell el-Amarna
EGYPT Old interpretations of Egyptian glass-making are shattered by experiments and new excavations at Amarna
The New Iron Age: The history of
corrugated iron
Industrial archaeology Corrugated iron was a revolutionary building material. In these pages, the unusual history and scope of this valuable resource is considered
REGULARS
World News
100,000 year old skull found in China; ancient altar discovered in Greece; Roman remains uncovered in Turkey; Christopher Columbus in trouble again; new evidence revises theories for Mayan child sacrifices; decorative materials used on Mayan temples;   iron ore mine predates the Incas; archaeologists and anthropologists join forces in 17th century study; concerns for US National Parks' heritage; update from the Grear War Archaeology Group
LETTER FROM AMERICA
Brian Fagan's latest column reporting on all things archaeological
DIARY
Egypt's sunken treasures; on tour in Yemen; a final plea to save Allianoi in Turkey
POSTCARD
Richard Hodges writes from Tuscany.
BOOKS
Ancient Board Games in Perspective; Alexander's Tomb
READERS WRITE
DNA lineage; Neanderthal traits; why rock art should not be chalked; Churchill
in Sicily
ON SITE INSIGHTS
A visit to Selge, in Turkey, an impressive Graeco-Roman city that prospered until the 7th century AD