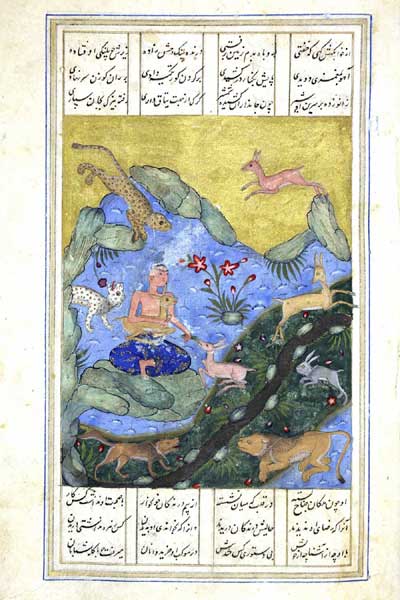 Cambridge's Fitzwilliam Museum is known for its world-class collections of works of art and antiquities spanning centuries and civilisations. The Fitzwilliam's next must-see exhibition (from 23 October 2007 – 6 January 2008) offers a rare and intimate glimpse at illuminated manuscripts from a private collection.
Viewers are treated to 25 literary and artistic masterpieces from the 10th to the 20th centuries that span chronological, geographic and cultural boundaries. Items include a Byzantine Gospel book, a Parisian history of the French kings, a Bruges Book of Hours, the popular English Brut Chronicle, an Ottoman Qu'ran, and a Venetian copy of Cicero.
In addition, stop awhile to look at the superb 16th century Persian manuscript on display (see photo right). Its richly decorated illustrations provided a sumptuous accompaniment to the stories recounted by the celebrated 12th century Persian poet, Nizami.
With much justification, this 'Khamsa (five poems) of Nizami' has been described as the most wonderful Indian manuscript in Europe.
Admission is free, for more information see: www.fitzmuseum.cam.ac.uk
---
This article is an extract from the full article published in World Archaeology Issue 25. Click here to subscribe