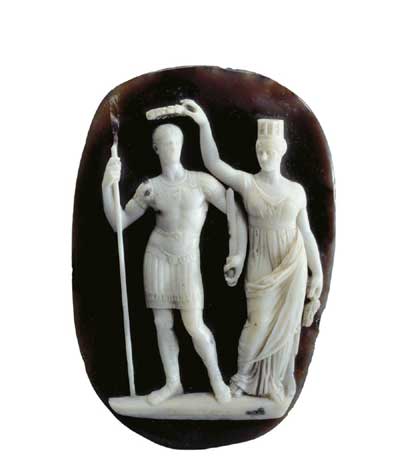 London's Somerset House is set to hold a major new exhibition entitled The Road to Byzantium: Luxury Arts of Antiquity. The expo, set to run from Thursday 30 March to Sunday 3 September 2006, will showcase a raft of classical Greek, Roman and Byzantine objects from St Petersburg's State Hermitage Museum.
Among the objects will be finely decorated silver and gold objects such as some astonishing examples of goldwork made for Scythian patrons, including a quiver cover with scenes from the life of Achilles; Athenian red-figure vases; and delicately engraved gems and cameos – including an exquisite cameo decorated with a lively scene of Alexander the Great hunting wild boar.
Much of the Hermitage's collection comes from tombs and burials excavated in the Crimea and its Russian hinterland during the 19th and 20th centuries. The items have rarely been seen outside Russia and this is the first time the collection has been brought to London. The treasures from Russia will be complemented with objects from the British Museum and the Victoria and Albert Museum.
The curators aim to use the collection to explore the remarkable phenomenon of the longevity of ancient Classicism. This runs counter to the traditional idea that the Byzantine Empire rejected the artistic styles and themes of classical Greece and Rome after Constantine the Great moved the heart of the Roman Empire from Italy to Constantinople (Istanbul). While the new Christian art of the Empire, as represented by icon painting, certainly did reject Classicism, the exhibition will demonstrate that this was not the case for other art forms. Thus, among the items on show will be a group of remarkably well preserved textiles dated to around the 4th century AD, upon one of which is a portrait of the goddess Ge. She illustrates the continuing interest in 'pagan' mythological themes long after the rise of Christianity. Likewise, viewers will see an astonishing continuity of Classical traditions in Byzantine precious metalwork, jewellery, and ivory.
The Road to Byzantium: Luxury Arts of Antiquity will be on view at the Hermitage Rooms, Somerset House, Strand, London WC2R 1LA. Tickets: £5/£4 (concs). Readers may also be interested to know that on Tuesday 25 April at 6 pm, a special lecture related to the exhibition will be given by Drs Peter Stewart and Antony Eastmond, at the Kenneth Clark Lecture Theatre, Courtauld Institute of Art. Price £5, includes drinks, please pay on the door (150 seats).
---
This article is an extract from the full article published in World Archaeology Issue 15. Click here to subscribe